Pest Control in Lake Villa Starting at $44/Month!
What kind of problem are you having? Select all that apply.
Pest Control in Lake Villa
When you discover a pest infestation, it can make everyday life in your home feel suddenly uncomfortable. If you're looking for a pest control company near you, look no further! At A-Action, we provide effective pest control in Lake Villa that restores your peace of mind and thoroughly protects both your family and home from nasty critters. Not only do our treatments remove your pest control problem, they work preventatively to ensure your home stays pest-free.
Here at A-Action Pest Control, our Lake Villa exterminators care about providing our customers with nothing short of the best service possible. We know how stressful a pest infestation can be, and we believe that you should never have to feel like a prisoner in your own home. Our pest control in Lake Villa involves targeted, individualized techniques, customized to fit the needs of your home's pest problem.
Image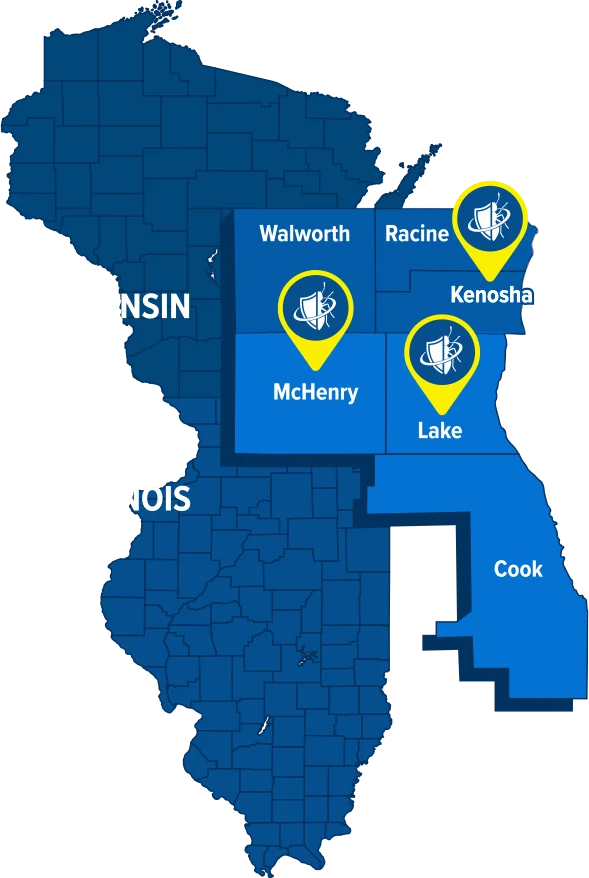 Expert Service from State Certified Exterminators
Our friendly exterminators are all state-certified and we provide them with continuous training so you can rest assured that you're receiving the most efficient solution for pest control in Lake Villa. Not only are our exterminators in Lake Villa eager to protect your home, but they are also just as concerned with protecting your family. When providing pest control, A-Action takes every precaution to ensure only the safest, family-friendly treatments are being used.
Our Treatments Are Always Guaranteed-- Or We'll Re-Treat for FREE!
When you need pest control in Lake Villa, you want to know your problem will be taken care of both quickly and effectively. If we treat your home and you aren't 100% satisfied, just give us a call. We'll come back to your house and retreat, free of charge! To better ensure your peace of mind throughout the process, we always aim to use the safest treatment options possible to eliminate pest infestations. Our exterminators in Lake Villa will keep your family safe while we eradicate your pest problem! If you aren't located in Lake Villa, our Antioch technicians service surrounding areas in Illinois and Wisconsin!
Rodent Control in Lake Villa
Knowing you have a rodent infestation can not only be emotionally taxing on your family, making you feel like a prisoner in your own home. From chewing electrical wires to contaminating food with viruses, rodents can wreak havoc on your home.
Remove Rodents From Your Home for Good
The expert team here at A-Action Pest Control has the experience and the treatments it takes to bring you peace of mind and control your rodent problem. With our rodent control in Lake Villa, you can expect:
A thorough inspection of your home, identifying rodent entry points, and customizing a treatment plan specific to your home's needs.
Bait stations set up in affected areas.
A follow-up visit from an exterminator, scheduled accordingly to check bait stations and identify problem areas.
Prevent future infestations by sealing entry points, eliminating food sources, and educating on preventive measures.
Eco-Friendly and Family-Friendly Treatments
As a locally owned and operated pest control company, our team at A-Action does not only strive to keep your home rodent-free, we strive to protect the environment while doing so. That's why when providing rodent control in Lake Villa, we strive to keep our environment and our community safe. Our exterminators only use the Integrated Pest Management, IPM, approach to rodent control. By following these steps, we ensure that the appropriate mechanical, biological, and chemical techniques are enacted, keeping our community as safe as possible while destroying your Lake Villa rodent infestation.
Stinging Insect Control in Lake Villa
Wasps and bees are just a couple of stinging insects that can ruin your fun outside. These dangerous pests can threaten the safety of your family and pets. Here at A-Action Pest Control, we offer Power Spray Treatment in Lake Villa that provides protective and preventive treatments from stinging insects for your home. With the help of our highly-trained technicians in Lake Villa, you can get peace of mind knowing that your family will be protected from any harm these pests can do.
Instantly Save $30 On Our Power Spray Treatment
Stinging insects can take a bite out of your summer fun. Now, when you sign up with A-Action Pest Control for our power treatment in Lake Villa, you can save $30 on your first service! Please note that this offer cannot be combined with another offer and is valid for new customers only.
Quick and Effective Pest Relief
Our stinging insect control in Lake Villa provides relief in just one treatment provided by our Lake Villa exterminators. Our Power Spray Treatment is a one-time treatment that effectively eradicates all stinging insects in the vicinity. Our exterminators in Lake Villa get the job done by utilizing high-quality products and their extensive knowledge of stinging insects. Here's what we offer when you invest in our Lake Villa power treatment:
Convenient scheduling for quick relief
A thorough inspection of areas where stinging insects like to nest.
Elimination of existing stinging insects on your property using eco-friendly products.
Preventative measures in affected areas to stop future nesting.
Asian Lady Beetle Control in Lake Villa
As fall arrives and the weather becomes colder, the indoors begin to seem much more inviting—to both people and pests. Pests like stink bugs, box elders, and asian lady beetles begin to invade homes in large numbers during the fall causing many homeowners to dread this time of year. With A-Action Pest Control on your team, however, you'll never have to worry about fall invaders again. We offer high-quality asian lady beetle control in Lake Villa as well as box elder control and stink bug control so that your home can remain pest-free even during the colder months of the year. 
Fight Fall Invaders with Seasonal Pest Control
Fall invaders are bad news. Due to their unpleasant smells, stink bugs and asian lady beetles, otherwise known as lady bugs, are a hassle to get rid of. Box elder removal is no easier since these tricky pests tend to hide in cracks and crevices of your home. Although fall invaders are no fun, the good news is that they're predictable and can be easily prevented or removed with our seasonal pest control. When you partner with A-Action Pest Control for asian lady beetle control, stink bug removal, or another season service, an expert exterminator in Lake Villa will be able to provide you the protection you need quickly and effectively no matter what. 
Our fall invader protection comes with the following benefits:
Preventative AND eliminative treatments
Recurring services for lasting relief
Expert advice from a team of highly trained exterminators
A 100% satisfaction guarantee