24-Hour Pest Control in Grayslake
What kind of problem are you having? Select all that apply.
Pest Control in Grayslake
Are you suffering from pest problems? Your first instinct may be to try to get rid of them yourself, but if you want an effective, long-term solution, you'll likely need the help of a professional exterminator. Here at A-Action, our services are guaranteed effective. Our friendly, knowledgeable exterminators in Grayslake have what it takes to eliminate any infestation and help you keep your home bug-free in the future! 
Learn more about each of our packages and find out how our exterminators can protect your home from:
Ants

Spiders

Centipedes

Earwigs

Silverfish

Cockroaches

Stinging insects

Asian lady beetles

And many more!
At A-Action, we think that every day you spend living with vermin is a day too many, which is why we offer flexible scheduling that fits your needs. Our local exterminators know the urgency that comes with pest problems, so you can count on us to get the job done right-- and get it done quickly!
Image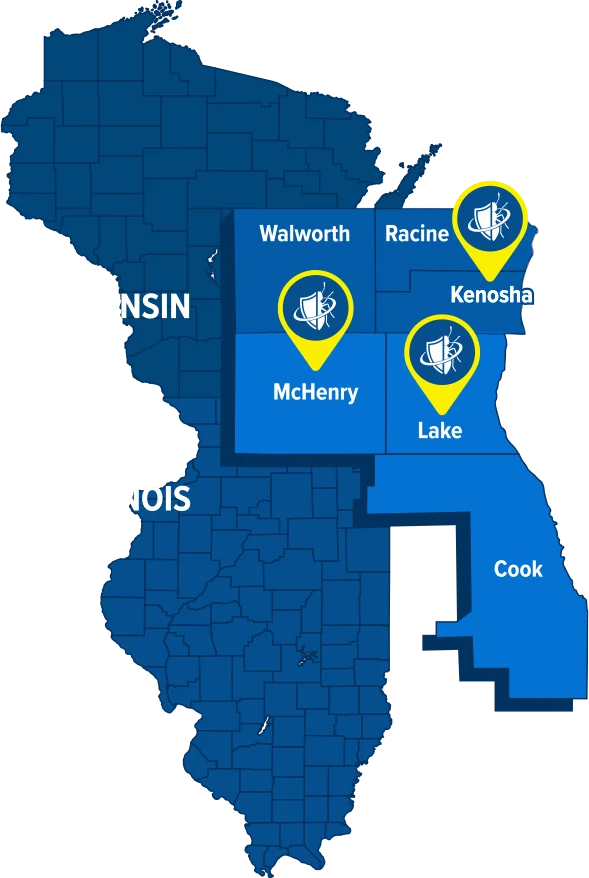 Recurring Pest Control for Year-Round Protection
When you call our team for pest control in Grayslake, you can expect:
A thorough inspection of your home

to identify problem areas and the best course of action.

A customized treatment plan

that solves your home's specific problems.

Service from one of our friendly exterminators, happy to serve every time. 

Being in the loop the entire process

, offering our best advice for bug and rodent prevention.

And more!
We'll return once every quarter to treat your home and ensure critters stay out for the long term!
Save $25 On Award-Winning Service
When you need the best pest control in Grayslake, who better to trust than a locally-owned company that's won the Angie's List Super Service Award for 6 consecutive years? At A-Action, we take pride in providing our customers with the high-quality service they deserve. Want to know why our current customers keep coming back to us for all of their pest control needs? Find out for yourself! 
Rodent Control in Grayslake
Mice and rats can cause damage in a variety of ways, from eating away at the structure of your home to ruining your belongings with droppings and bite marks. They are also known to spread disease, and with access to the food you eat, they can pose even more of a risk. To get rid of rodents quickly and avoid the hassle of DIY methods, you need professional rodent control! Call our mouse exterminators today and you can save $50 on our rodent control in Grayslake. Please note that this offer cannot be combined with another offer.
Protect Your Home & Family from Rodents
If you've tried to get rid of mice and rats on your own, you know these methods are ineffective and leave your home open to even more damage. For long-term protection, call the trusted team at A-Action for rodent control in Grayslake that will provide you with: 
Friendly customer service from the time you call until your service is complete
A thorough inspection of your home to determine the best course of action
Bait stations in problem areas
A follow-up visit from your friendly rodent exterminator in Grayslake to check on the bait stations and adjust accordingly
Helpful tips on preventing future infestations
From start to finish, you'll receive the high-quality care that's won us the Angie's List Super Service Award for 6 years in a row. With our rodent control, we'll restore your peace of mind and rid your home of rodents—guaranteed!
Stinging Insect Control in Grayslake
Yellow jackets, bees, hornets, and wasps are all names we don't like to hear. These stinging insects bring the threat of harm to our family and pets. Instead of hiding inside, team up with our state-certified exterminators in Grayslake. At A-Action, we offer Power Spray Treatment that gets rid of your pest problems on the first try! With experienced exterminators and top of the line products on your side, you're guaranteed effective extermination. Sign up for our Power Spray Treatment and save $30 today!
Eco-Friendly Treatments for Your Home
At A-Action Pest Control, safety is always top of mind. Our exterminators utilize eco-friendly and safe treatments to efficiently eliminate the existing stinging insects on your property. With just one treatment, your home will be free of any stinging pest and you can go back to enjoying your time outside! Here's what you can expect when investing in our power treatment in Grayslake:
A detailed inspection of your property to discover affected areas.
Eradication of stinging insects and their nests.
Preventative techniques implemented by our technicians to stop future nesting.
A 100% Satisfaction Guarantee!
Asian Lady Beetle Control in Grayslake
As the weather cools down, fall pests want to come inside. These fall invaders in Grayslake can easily establish large communities in your house without proper control. If you want to stop these bugs from hunkering down in your home contact our local exterminators today.
Who are the Fall invaders?
Asian Lady Beetles: Better known as Ladybugs, these Fall invaders aren't dangerous but can congregate in large numbers and secrete a waxy substance that can cause unpleasant odors in your home.
Stink Bugs: These invasive beetles are best known for their acrid odor when crushed or disrupted and have a knack for getting into homes when the weather gets cold. 
Boxelders: These insects colonize maple and ash trees during the summer but prefer to spend Fall and Winter indoors where they hide in difficult-to-access areas of the home. 
Trusted, Experienced Care From Local Exterminators
At A-Action Pest Control our professional, knowledgeable team of exterminators have specialized in fall invader removal since 1988. With years of experience in stink bug control, box elder control, and ladybug removal across the Midwest, our top priority is your peace of mind. With our 100% satisfaction guarantee, there's nothing to lose!