Pest Control in McHenry Starting at $44/Month!
What kind of problem are you having? Select all that apply.
Pest Control in McHenry
Here at A-Action, we know just how annoying pests can be when they're in your home. They make you feel uncomfortable and your space feel unclean, but it doesn't have to be that way! Our reliable pest control in McHenry will kick critters to the curb, giving you back peace of mind as soon as possible. Not only will A-Action Pest Control eliminate current nests, but we work to prevent future infestations, too!
With our pest control, we offer services including:
Ant Control
Cockroach Control
Cricket Control
Spider Control
Silverfish Control
Bed Bug Control
Mouse Control
Rat Control
And more!
Image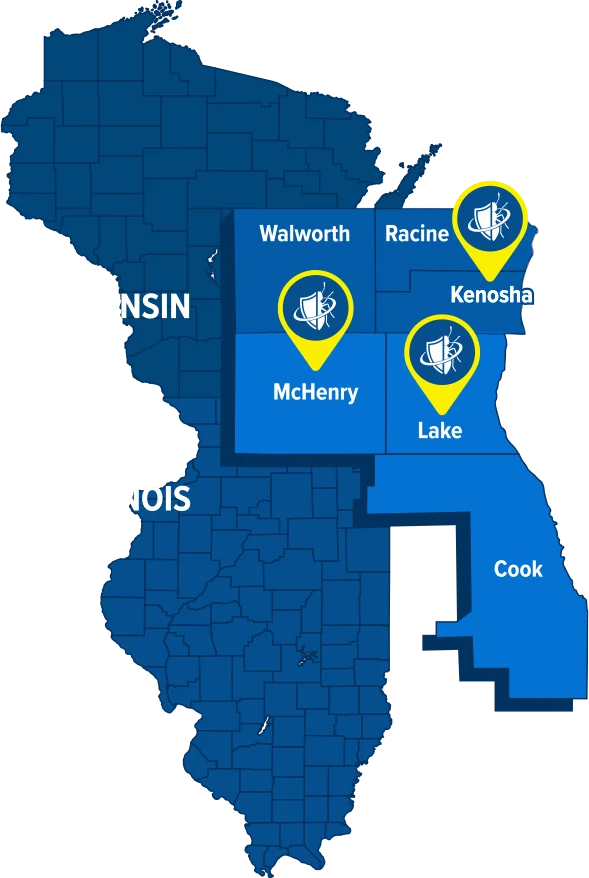 Get $25 Off Your Initial Pest Service
Great pest control shouldn't break the bank, which is why we work hard to keep our services affordable. On top of our already great prices, we also love to give our customers special deals! Right now, when new customers sign up, you'll save $25 on your first treatment! Check out our coupons for even more savings.
Comprehensive Pest Protection
Our pest control in McHenry has been making homes just like yours critter-free for almost 30 years. By combining top-notch products and strategic treatment techniques, we'll have you seeing results in no time. When you rely on A-Action's team of expert exterminators, you can feel confident that you'll receive the best pest control service possible, which includes:
A thorough inspection to properly determine the extent of the infestation.
Friendly, experienced exterminators who are by your side the whole time.
Targeted treatments that fit your unique needs.
Complete elimination of the existing infestations in your home.
Routine exterior treatments that prevent new pests from invading your space.
Family-Friendly Pest Solutions
We know that battling pests can be overwhelming, which is why we work hard to make our treatments as hassle-free as possible. Our expert exterminators are locals, so they know exactly what type of pests you're up against and how to handle them. We also understand how important the health and safety of your loved ones are, which is why we use the same family-friendly products that we would use in our own homes. When you choose A-Action, you can feel good knowing that our treatments are tough on pests, not your family.
Rodent Control in McHenry
The sight of rodents in your home is enough to make your skin crawl, but what you may not realize is that they could also be putting your loved ones at risk. Many mice and rats carry with them a number of dangerous diseases that pose serious health risks. That's why, when faced with a rodent infestation it is always best to call in the professionals! Our team of rodent control experts in McHenry utilizes the best, and most environmentally responsible, treatment methods to ensure the vermin are eliminated while keeping your family safe.
Protect Your Home—Save $50 on Rodent Services
Rodents can put you, your family, and your home at risk. Now, when you sign up with A-Action for our rodent control service, you can save $50 on your first treatment! Please note that this offer cannot be combined with another offer. Contact us today to schedule your first treatment.
Treatments Performed by Local Exterminators
How do we do this? Our rodent removal includes:
A thorough inspection of your home to identify entry points
Baits and traps in problematic areas
Inspection of the baits to determine which areas are infested
Sealing entry points, treat infested areas and remove potential food sources
Friendly customer service and tips for preventing a future infestation
Complete Elimination with Guaranteed Results
If you've tried DIY methods in the past, you know that treating a rodent infestation is no easy task. If you're looking for rodent removal in McHenry, look no further than A-Action. We will not only rid your home of the problem, but we will help to keep them out! In fact, we are so confident in our services, we offer a 100% satisfaction guarantee. Meaning, if you're not left completely satisfied, we will re-treat to the area for free!
Stinging Insect Control in McHenry
Your backyard should be a place where you can relax and enjoy time with loved ones, not one where you're constantly dodging bees, wasps, hornets, and yellow jackets. With our Power Spray Treatment in McHenry, we'll eliminate these dangerous pests using both reactive and preventative measures. When A-Action Pest Control is on your side, you can feel confident that you and your family are protected.
Save $30 on Power Spray Treatment
To welcome new customers into the A-Action family, we're offering $30 off our Power Spray Treatment! If stinging insects are what's bugging you, call us today for relief at the best price around.
Results After One Treatment
We employ the best stinging insect exterminators in McHenry and use top-of-the-line products, enabling us to eliminate these pests in just one treatment. With A-Action, there's no waiting for the relief you deserve. On top of being extremely effective, our power treatment is also eco-friendly, so you don't have to worry about the impact on the environment.
Mosquito, Flea, and Tick Control in McHenry
Mosquitoes, fleas, and ticks are critters that no one wants to find in their backyard. Not only do these pests leave behind irritating bites on you and your loved ones, including pets, but they also put you at risk for dangerous illnesses like malaria, Lyme disease, and West Nile virus. For reliable protection from these bloodsuckers, rely on our mosquito, flea, and tick control in McHenry.
Save $25 on Mosquito Control
If you're searching for ways to protect your yard from mosquitoes and save money, look no further than our mosquito control program. Now, when you sign up for our mosquito control services, you'll save $25 on your first mosquito treatment! Contact us today to schedule your first service and start on your path to a pest-free yard.
Highly Trained Exterminators
It can be tricky to rid your yard of pests, but they don't stand a chance against our mosquito, flea, and tick control in McHenry. Our exterminators are highly trained and know the best way to treat each bug that's bothering you. We provide you with unbeatable relief that lets you safely enjoy your time outside without annoying pests taking over.
When you partner with us for mosquito, flea, and tick control, we will:
Search your property for areas where the insects are living and breeding, paying special attention to dense vegetation and brush.
Apply family and environmentally friendly solutions that are tough on pests, but safe to use in your backyard.
Return for monthly mosquito, flea, and tick control treatments to provide long-term relief.
Give you expert advice to help make your yard unappealing to pests, further preventing them from making a comeback.
Back our mosquito, flea, and tick control services with our 100% satisfaction guarantee.
Guaranteed Relief From Pests
Your family's safety is our priority, which is why our exterminators work hard to consistently deliver the best pest control in McHenry. To give you peace of mind, we guarantee our treatments will get the job done right the first time. If you aren't satisfied with our services, give A-Action Pest Control a call and we will happily re-treat at no additional cost. Get started by contacting one of our Lake Zurich exterminators today!