Save $25 on Pest Control in Fox Lake!
What kind of problem are you having? Select all that apply.
Pest Control in Fox Lake
Pests make the worst house guests. Spiders and wasps can put you in danger of venomous bites or stings, termites can destroy your walls, mosquitoes and rodents spread disease, and bed bugs and fleas can drive you out of your own home! With all these worries, you need pest control you can rely on. That's why A-Action offers top-notch pest control in Fox Lake, providing service built on trust, integrity, creating relationships, and preserving your peace of mind. 
We can treat a number of local pests:
Ants, including carpenter ants
Centipedes
Crickets
Earwigs
Spiders
Cockroaches
Rodents
Silverfish
Carpet beetles
And more!
Image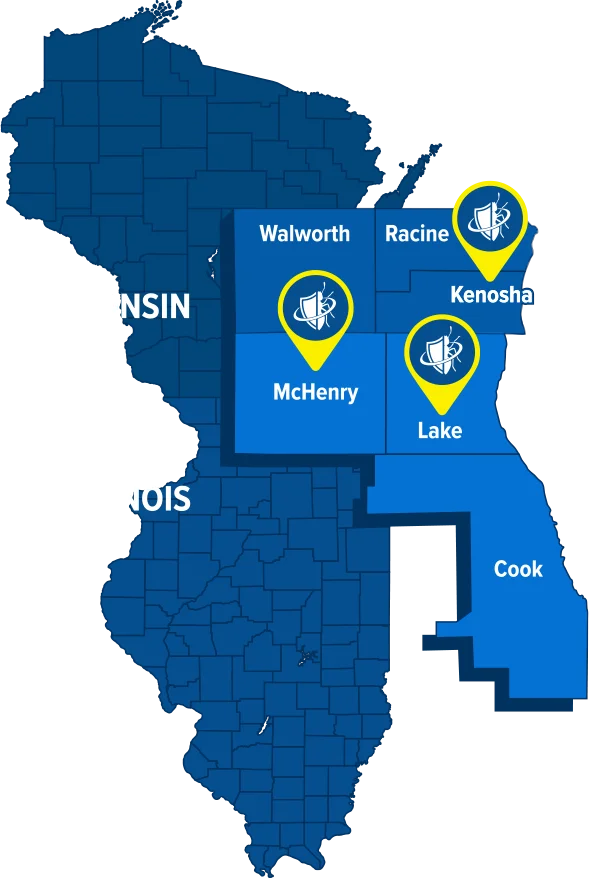 Work with the Pest Experts
Pest control is complicated—that's why you need to work with the people who know their stuff. For the past 31 years, your neighbors at A-Action have been providing quality services to our local community, and we want to use our expertise to protect your home.
All of our exterminators are state-certified and highly-trained, so you know you can count on us to keep you and your loved ones safe. Our service professionals are highly trained to identify signs of any local pest and administer the best treatment for your unique situation.
You'll Be Pest Free—Or We'll Retreat!
When you're looking for customized pest treatments, you want to know you're getting solutions that work. With A-Action, you'll never have to worry thanks to our satisfaction guarantee: if your pest problems persist after treatment, just give us a call and we'll be back to set it right—at no additional cost to you! Why wait? Call us today at 847-744-8538 and get the security of a critter-free home! 
Stinging Insect Exterminator in Fox Lake
Spending time outdoors with your family is healthy and refreshing, but a stinging insect infestation can really ruin that special time. To make matters worse, these bugs can follow you indoors and build their nests inside your home. Luckily, we offer stinging insect control in Fox Lake to keep them away for good! We offer a variety of services, including:
Wasp Control
Hornet Control
Bee Control
Yellow Jacket Control
And more!
Save $30 on Our Power Spray Treatment
To guarantee your satisfaction, we offer a variety of services from wasp control to yellow jacket control. Each exterminator on our team is devoted to building and maintaining a professional relationship with you that is based on trust and honesty, so you can get the service you deserve. We also believe that stinging insect control shouldn't be hard on your wallet. That is why we are offering $30 off our power treatment.
Our team of experienced exterminators provides: 
A thorough inspection of your property by an expert exterminator. 
Convenient scheduling that works best with your schedule.
Eco-friendly removal for highly effective, risk-free service.
Long-term protection from stinging insects.
100% satisfaction guaranteed! 
Rodent Exterminator in Fox Lake
Rodents in your home aren't just an annoying nuisance—they often carry diseases and parasites, are attracted to common household food, and can even cause structural damage in your home. So when you need rodent removal or mice control, A-Action is here for you. Our rodent control process is simple, effective, and built around both your needs and peace of mind. 
When you choose to work with us, we will:
Perform a thorough in-home inspection to determine the presence of rats or mice.
Use bait stations in affected areas. 
Use exclusively environmentally friendly mice control products.  
Conduct return inspections with a trained rodent exterminator.
Seal all entry points and eliminate food sources to prevent future infestations.
Plans Starting at $35/Month
Rodent control is essential to maintaining your home, but that doesn't mean that it has to cost a fortune. Our Premiere Action Plan starts at just $35/month, providing high-quality rodent control and removal for any budget!