Pest Control in Lake Forest from $44/month
What kind of problem are you having? Select all that apply.
Pest Control in Lake Forest
At A-Action Pest Control, your peace of mind always comes first. Having pests in your home is a stressful experience and our team of expert, local pest exterminators understand that. When you sign up for our pest control in Lake Forest, you can feel confident that we'll get rid of pests in your home. Additionally, we offer a variety of flexible, budget-friendly plans that keep pests away for the long haul. If you've got nuisance pests, look to A-Action today!
When you choose A-Action Pest Control, you can expect:
A complete inspection of your home from local pest control exterminators.
Targeted bait station application in affected areas of your home.
Sealed off likely entry points.
Family-friendly pest control products. 
Follow-up visits to make sure pests don't come back.
A 100% satisfaction guarantee.
And more!
Image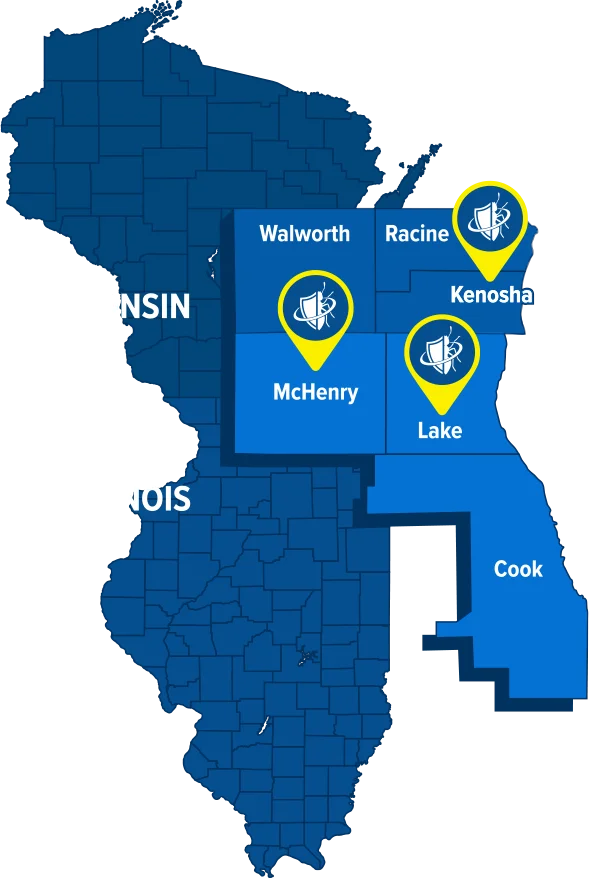 Protection from A Wide Variety of Pests
There's no shortage of pests that can invade your home. That's why we specialize in ridding your home of a wide variety of household pests. If it crawls or flies and lives in the Midwest, we know what to do about it.
We'll protect your home from:
Ants
Beatles
Bed Bugs
Centipedes and Millipedes 
Cockroaches
Crickets
Earwigs
Mites
Silverfish
Spiders
Stinging Insects 
And more!
Stinging Insect Exterminator in Lake Forest
Stinging insects, such as yellow jackets, wasps, and hornets are bad news. With these pests sending more than 500,000 people to the emergency room each year, getting rid of a nest is best left to the professionals. A-Action's stinging insect control in Lake Forest will keep your family safe and your property free of stinging insects! 
Tough on Pests, Safe for Your Family
While the thought of finding a wasps' nest or stumbling upon a swarm of yellow jackets can keep you inside, don't worry. At A-Action, safety is our number one priority. Our exterminators utilize eco-friendly and family-safe treatments to effectively eliminate the existing stinging insects on your property. 
Our stinging insect control in Lake Forest includes:
A thorough inspection of your home and property to discover all affected areas.
Complete removal of all stinging insects and their nests—we leave nothing behind!
Preventative measures implemented by our trained exterminators to stop future nesting.
Your satisfaction guaranteed!
Save $30 Today
Don't confine yourself to the indoors this summer! If a nest is found on your property, keep away from it and call the professionals at A-Action for outdoor pest control. Right now, when you sign up for our Power Spray Treatment, you can save $30 on your treatment! 
Rodent Exterminator in Lake Forest
A rodent infestation in your home has to be taken seriously and when you hire A-Action Pest Control, you know it will! Our rodent control in Lake Forest will quickly get rid of rodents in your home and keep them away for the long haul. Mice and rats are clever and potentially destructive, rendering DIY rodent removal methods largely ineffective, especially when faced with a severe infestation. Choose the rodent control that you can rely on and get a clean home today! 
Our rodent control service includes:
A home inspection from a local rodent exterminator. 
Closing off all rodent entry points into your home. 
Bait station application in affected areas.
Follow-up visits to make sure rodents don't come back.
And more! 
Get Protection from Rodent-Borne Diseases
Mice, rats, and other rodents are all known to carry and spread dangerous diseases, making quality rodent control one of the most important parts of home safety. When they get indoors, rodents can expose your family to illnesses like Typhus, Salmonella, Hantavirus, and even Plague! Make sure to check out our other locations surrounding Lake Zurich to see all of our service areas. Keep rodents outdoors and your loved ones safe with help from the local experts at A-Action Pest Control. 
Locally Owned for 30+ Years
For more than 30 years now, A-Action Pest Control has served the people of Wisconsin and Illinois. We're proud to be a locally-owned and operated pest control company with a penchant for customer service. We look forward to meeting you giving you back the pest-free home you deserve.