Pest Control in Waukegan Starting at $44/Month!
What kind of problem are you having? Select all that apply.
Pest Control in Waukegan
When pests are in your home, they put you and your loved ones at risk for dangerous diseases, as well as wreak havoc on your home itself. Instead of attempting to battle them on your own, trust the experts at A-Action for the best pest control in Waukegan. We'll eliminate your current pests while working to prevent new ones from finding their way inside. Once we're done, you won't have to worry about unwelcome creepy crawlies any longer!
Get $25 Off Your Initial Pest Service
New customers are invited to take $25 off their initial pest control service when choosing A-Action. Want other ways to save? Check out our Waukegan pest control coupons for other special offers on our services!
Image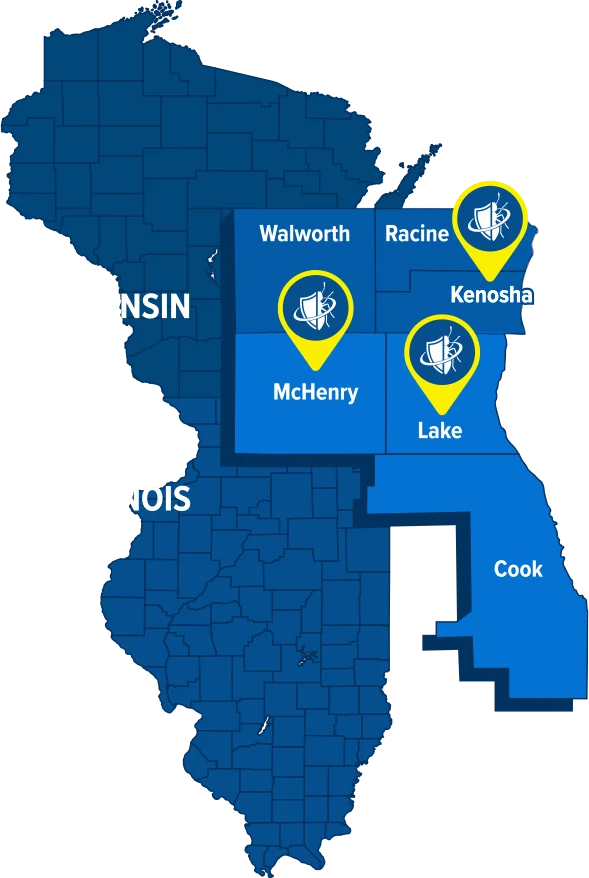 Pest Treatments Tailored to You
Here at A-Action, we don't believe in one-size-fits-all treatments. Your home is unique and has its own special needs that we take into account to give you the most effective pest control in Waukegan possible. We combine advanced products with targeted techniques that are guaranteed to give you results. When you choose us for your Waukegan pest control, you can also expect:
A detailed inspection to identify the pests you're dealing with, as well as the extent of the infestation.
Open communication of our findings, keeping you in the loop the whole time.
Customized treatments that work with your home's needs to give you relief in no time.
Routine exterior treatments that prevent new infestations from taking hold.
Protection From Pests of All Kinds
Pests can be unpredictable, and they certainly don't give you a heads up before they invade your space. Whether your nuisances crawl, scurry, or fly, our Waukegan exterminators know exactly how to kick them out of your home for good. With our experts on your side, you'll be protected from a variety of pests, including:
Ants
Centipedes
Crickets
Spiders
Cockroaches
Silverfish
Mice
Rats
And more!
Our Pest-Free Guarantee
Pests are frustrating, but getting rid of them doesn't have to be! When you partner with us, you don't have to worry about pests making a return appearance. Not only do we treat quickly and effectively, we also back all of our Waukegan pest control services with our satisfaction guarantee. If you aren't 100% satisfied after we leave your home, just give us a call. We'll happily return to your home and re-treat, free of charge! That's our promise to you.
Rodent Control in Waukegan
Believe it or not, rodents make up approximately 40% of the mammal population -- so it's no wonder they often make their way into our homes. Discovering non-domesticated rats and mice scurrying about in your home would make even the toughest of individuals a little squeamish -- and for good reason! Rodents are unsanitary, have been known to spread at least 35 diseases, contaminate food, and provide an unsafe environment for children and pets. With A-Action Pest Control's rat exterminators on your side for rodent control in Waukegan, you'll get back to living worry-free with our effective, family-friendly treatments starting at just $35 a month! 
Robust Rodent Control Plans for Peace of Mind
With our comprehensive pest control plans starting at only $35 a month, you'll never have to worry about affording control of rats, mice, and other common household pests. When you choose A-Action's rodent control, a highly-rated, trusted exterminator will get rid of mice and rats in your home by performing the following:
Thorough rodent inspection of your home and your entire property
Application of eco-friendly and humane bait stations
Minimally-invasive Integrated Pest Management approach 
Inspection of bait systems to identify each infested space
Seal all entry points
Sanitize and treat each infested area 
100% Complete Elimination Guarantee
When dealing with a rodent infestation, we understand your desire to get rid of the rats or mice and obtain peace of mind knowing they won't return. With our 100% total elimination guarantee, you can trust in our methods of treatment -- but if rodents come back, we'll return to perform free re-treatments until you're 100% satisfied with results. 
Stinging Insect Control in Waukegan
Any summer outdoor activity is made a bit more harrowing when a wasp, bee, or hornet nest hangs just above your head. And especially if you or a loved one has a bee allergy, the presence of these stinging insects can be very scary. Our stinging insect control in Waukegan quickly and safely removes nests belonging to these insects so you can enjoy your outside space again!
When you choose A-Action as your pest control company, you can expect:
A thorough inspection of your home's exterior, deck railings, playsets, etc.
One treatment that takes care of all stinging insects.
Humane honey bee removal by a professional beekeeper.
Guaranteed satisfaction: We'll come back and re-treat your yard if you're not happy.
If you have these pests in your yard, don't feel like you have to resort to DIY solutions that are often ineffective and run the risk of you getting stung. Our state-licensed stinging insect exterminators are ready and equipped with proper safety gear and in-depth product knowledge that allows them to take their time doing a thorough, quality job.
Mosquito Control in Waukegan
Are you tired of dealing with annoying mosquitoes and ticks in your backyard? Look no further than A-Action Pest Control for all your mosquito and tick control needs. With over 31 years of experience, we guarantee unmatched results and a mosquito-free summer for you and your family. Here's what our comprehensive mosquito and tick control in Waukegan includes:
Thorough Inspection: Our highly-trained exterminators will conduct a complete inspection of your property to determine the best treatment options.
Prevention Methods: We'll help you identify and eliminate breeding grounds for mosquitoes and ticks, ensuring they never have a place to thrive in the first place.
EPA-Approved Liquid Sprays: Our family-friendly treatments are EPA-approved and will effectively get rid of these pests without harming you or your family.
Targeted Larvicides: We'll apply larvicides to targeted areas to eliminate mosquito larvae and prevent future infestations.