Pest Control in Round Lake Starting at $44/Month!
What kind of problem are you having? Select all that apply.
Pest Control in Round Lake
Finding pests in your home is never fun, not to mention they can actually pose a danger to you and your family. Instead of putting your loved ones, or your home, at risk, call A-Action Pest Control today! Our pest control in Round Lake will eliminate the unwanted creepy crawlies from your home, giving you back your space in no time.
Our exterminators in Round Lake will keep you protected from a variety of pests, including:
Ants
Centipedes
Earwigs
Spiders
Cockroaches
Silverfish
Mice
Rats
And more!
We understand how annoying pests can be, which is why we deliver treatments you can count on. Our Round Lake pest control experts go the extra mile to make your home pest-free, letting you stop worrying about what's crawling around your space. They'll also keep you informed, so you don't have to wonder about what's going on in your own home.
Image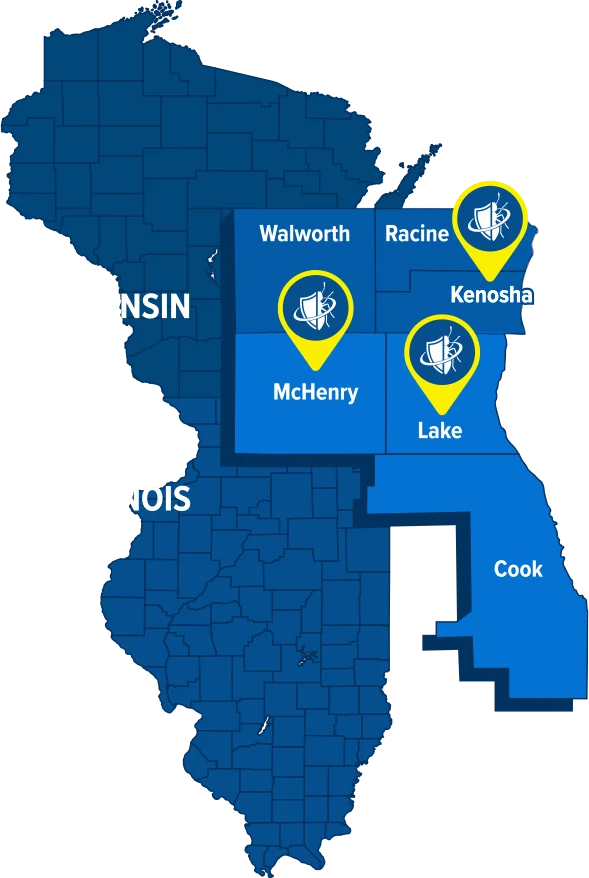 Reliable Pest Control in Round Lake
Our Round Lake pest control includes:
A free, no obligation quote that lets you feel good about choosing A-Action.
Knowledgeable technicians who will happily address all your questions and concerns.
A comprehensive inspection to assess your current pest situation.
Strategic treatment methods that work with your home's needs.
Total elimination of the pests you've been battling.
Flexible Schedule for Your Convenience
Pest infestations are never convenient, which is why we do our best to make our Round Lake pest control as hassle-free as possible. This includes:
Offering flexible scheduling, letting you get treatment at times that work for you.
Highly trained Round Lake exterminators that efficiently do their job, letting you get back to normal quickly.
Family-friendly treatments that are easy on your loved ones and tough on pests.
Recurring services that keep your home protected all year long, eliminating the worry of another infestation.
Rodent Control in Round Lake
Here in Round Lake, rodents can make their way into your home for the winter, putting your family, pets, and peace of mind in danger. We know how unsettling it can be to have rodents invade your space, that's why A-Action Pest Control Services offers rodent extermination that's fast, effective, and safe for your family.
Protect Your Home-- Save $50 on Rodent Services
Rodents can put you, your family, and your home at risk. Now, when you sign up with A-Action Pest Control for our rodent control in Round Lake, you can save $50 on your rodent control service! Please note that this offer cannot be combined with another offer.
Get Rid of Rodents for Good
Once rodents have made their way inside, it can be nearly impossible to get them out for good. Don't rely on DIY remedies or old fashioned mouse traps, let the Round Lake rodent control experts at A-Action Pest Control implement up-to-date treatments to ensure complete elimination.
When you call our rodent control experts in Round Lake, you can expect:
A thorough inspection of your home and property to determine points of entry
Bait stations assembled in affected areas
A return visit to inspect bait stations and determine the infested areas
A complete seal of all entry points, elimination of rodent food sources, and treatment for infested areas
Stinging Insect Control in Round Lake
Stinging insects in your yard can be a big problem; not only is their presence unsettling, but it can also be a health risk. They can cause painful stings that are tender for days, and can even trigger allergic reactions. That's why we've created reliable a Power Spray Treatment in Round Lake. We make wasps, hornets, yellow jackets, and bees a thing of the past—no more harassing you in your own yard, building nests on your property, or wiggling their way inside your home.
Save $30 on Our Award-Winning Power Spray Treatment
Stinging insects are small but mighty, wreaking havoc at barbecues, picnics, and outdoor parties. If you're suffering from unwelcome wasps, hornets, yellow jackets, or bees, our power treatment in Round Lake is your solution, and it's more affordable than you think! We keep our prices as affordable as possible to bring relief to as many people as possible. Right now, we're offering even bigger savings! When you sign up for our Round Lake power treatment, you get $30 off!
30 Years of Stinging Insect Relief
With over three decades of experience under our belt, our team at A-Action is more than capable of tackling whatever pest problem you have. Our Round Lake stinging insect exterminators calmly and professionally handle removing these aggressive insects, making your yard safe. When you choose us for all your Round Lake stinging insect control needs, you can expect:
Visits that work with your schedule.
A comprehensive inspection that leaves no hiding place unchecked, including patio furniture, swing sets, soffits, and abandoned rodent holes.
Eco-friendly treatments that eliminate all existing stinging insects in just one treatment while using the safest methods possible.
Removal of nest materials, discouraging other stinging insects from inhabiting the abandoned nest.
Quality care that sets your mind at ease and makes your yard stinging insect-free.
Asian Lady Beetle Control in Round Lake
Just like us, pests enjoy the warmth of your home during the colder fall months. As a result of this, you may find yourself in the middle of a fall invader infestation. Whether it's Asian lady beetles, boxelder bugs, or stink bugs, A-Action is here to help! We have a unique beetle control treatment plan waiting for you, and we're confident the bugs will be gone in no time. We believe everyone should find peace of mind in their home, and we're determined to help you achieve it. 
When you choose us for Asian lady beetle control in Round Lake, you'll get:
A highly-skilled, knowledgeable team

of exterminators

Award-winning service

Effective, high-quality solutions

100% satisfaction,

guaranteed
Our Customers Deserve High-Quality Care
We pride ourselves on providing the best service possible to our customers, from addressing your needs quickly, to keeping you informed every step of the way. We want to build the kind of relationship with our customers that is centered around more than just business. Our exterminators prioritize putting you first because you allow us to continue to serve our community every day. If you're looking for value, look no further than A-Action Pest Control. 
Quality Care From a Company You Can Trust
Your home is your biggest investment, so you have every right to be particular about who you allow in and around it. When pests are involved, it can be difficult to determine what company you can trust. Here at A-Action, we know being chosen to deliver your stinging insect control in Round Lake is a big deal, and we treat it as such. Every step of our process is completed by state-certified exterminators who have been extensively trained. We use only the highest grade materials to ensure proper treatment every time. If, however, you aren't satisfied with our services, all you have to do is give us a call. One of our Round Lake stinging insect exterminators will happily re-treat the area for free, as well as address any other concerns you may have. Not in Round Lake? Look to our Antioch exterminators for services around your area.