Pest Control in Palatine Starting at $44/Month!
What kind of problem are you having? Select all that apply.
Pest Control in Palatine
You've probably invested a lot to make your home a comfortable and inviting space for your family and friends. Don't let unwanted insects ruin that hard-earned peace! As a pest control company, our goal is to safeguard your home against pesky pests so that you can enjoy all that you've made your home to be.
Our experienced exterminators will protect you and your loved ones from:
Ants
Centipedes
Earwigs
Spiders
Silverfish
Rats
Mice
Cockroaches
And much more!
Image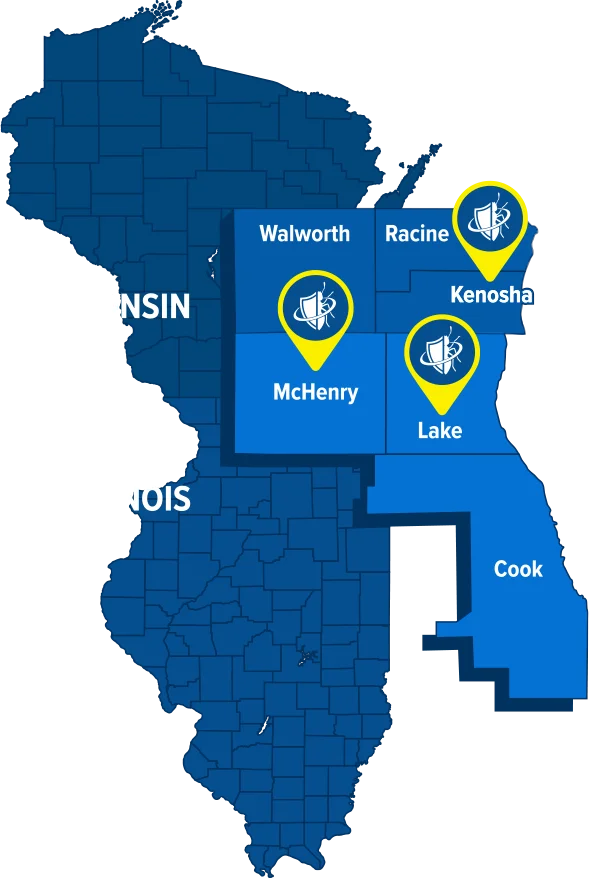 Let Experienced Pros Solve your Pest Problem
With over 30 years of local pest control experience in Palatine, we've seen it all. So when you want to get rid of pests in your home, we'll make sure it's done right the first time. Our services include:
A comprehensive home inspection by one of our experienced exterminators to identify the pest that has invaded your home and how extensive the infestation is.
A list of all of our team's findings, working with you to determine the safest, effective, and enduring solution.
Effective treatments to remove pests, relying on the safest practices and the use of the best products on the market to ensure the safety of your family.
Recurring exterior treatments to establish a protective barrier around your home and prevent future infestations.If you want to keep your home a haven, reach out so we can remove all unwanted visitors.
$25 off Pest Control for First-Time Customers
Often, trying to boot pests with DIY methods doesn't pan out. If that's your story, then take advantage of the opportunity to save as a new A-Action customer. You'll receive $25 off your first treatment!
Not in Palatine? We service areas all around Lake Zurich!
Rodent Exterminator in Palatine
The tricky thing about rats and mice is that you often have no idea there's a rodent infestation in your home until it's too complicated to deal with on your own. Fortunately, A-Action Pest Control has your back. Our highly trained and knowledgeable rodent exterminators will eliminate these destructive vermin and keep them from returning. As part of our rodent control in Palatine, our friendly technicians will:
Conduct a comprehensive inspection

to assess your home.

Strategically place humane bait stations

to maximize effectiveness while protecting your family and pets.

Schedule follow-up visits

to empty and reload bait stations.

Seal all entry points, eliminate food sources, and treat infested areas

to remove all signs of rodents and keep them out for good.
Recurring Plans for Lasting Protection
Because mice can access your home through an opening as small as a dime, continuous monitoring and protection with our recurring rodent control services can provide long-term peace of mind. With our 100% guaranteed mice and rat extermination promise, if you spot one of these unsanitary critters, we'll be back to make it right for free!
Stinging Insect Exterminator in Palatine
Are you tired of stinging insects ruining your outdoor gatherings and invading your home? Don't worry; we have the solution for you! With our stinging insect control in Palatine, you can enjoy a wasp-free environment and keep your loved ones safe. Here's what we offer:
Free Quote: Get a complimentary assessment of your stinging insect problem and find out how we can help you.
Prevention: Our experts will inspect every nook and cranny in your home to identify potential nesting spots and prevent future infestations.
Power Spray Treatment: Our treatment will eliminate existing nests and deter stinging insects from returning to your property.
Nest Prevention: Our safe and eco-friendly products will prevent stinging insects from building nests in the same location, giving you long-lasting protection.
By choosing our stinging insect control service, you can enjoy a pest-free environment and keep your family and pets safe from painful stings. Contact us today or fill out our contact form for a free quote. Don't let stinging insects ruin your outdoor fun - take action now!
Mosquito Exterminator in Palatine
Say goodbye to mosquito bites and protect your family from dangerous diseases like West Nile Virus and Zika Virus. Our mosquito treatments are tailored to your specific needs and will take the bite out of summer. Our exterminators in Palatine will provide you with: 
Comprehensive inspections: Our highly-trained exterminators will thoroughly survey your property to determine the best treatment option.
Prevention: We'll help you identify and fix areas that are breeding grounds for mosquitoes and ticks to ensure they never have a place to thrive.
Targeted larvicides: We'll apply specialized treatments in areas where mosquitoes breed to eliminate them at the source.
Seasonal control: Our preventative treatments will keep your yard bug-free throughout the season.
Flea & Tick Prevention For Your Safety
Ticks can transmit harmful diseases such as Rocky Mountain Spotted Fever and Lyme disease. With our professional flea and tick prevention, you can create a barrier around your home and reduce the population of these pests in your yard. Take proactive measures to keep your family and pets safe today!
Asian Lady Beetle Exterminator in Palatine
As the weather cools down here in Illinois, unwelcome guests in Palatine seek refuge inside your home. These autumn bugs can swiftly establish thriving colonies within your house if not managed properly. If you wish to prevent these pests from taking shelter in your home, contact our local exterminators in Palatine today.
Who are these autumn intruders?
Asian Lady Beetles: Commonly recognized as Ladybugs, these fall invaders are not harmful but tend to congregate in significant numbers. They can secrete a waxy substance that creates unpleasant odors within your home.

Stink Bugs: These invasive beetles are notorious for their pungent odor when crushed or disturbed. They have a knack for infiltrating homes as the weather turns colder.

Boxelders: These insects initially colonize maple and ash trees during the summer but prefer spending the autumn and winter indoors, often hiding in hard-to-reach areas of your home.
At A-Action Pest Control, our dedicated team of experienced exterminators has been specializing in pest removal since 1988. With extensive expertise in controlling stink bugs, box elders, and ladybugs across the Midwest, our utmost priority is ensuring your peace of mind. Call us today!
Award Winning Customer Service
Bugs and rodents are annoying, but they also pose serious health risks to you and your family. That's why at A-Action, we're proud to provide services that stop at nothing to protect your home. Our exterminators have been removing pests from homes in Illinois and Wisconsin since 1988, and we are a proud recipient of the Angie's List Super Service Award 6 years in a row, which is indicative of our outstanding customer service.