Get a Free Quote on Pest Control in Kenosha
What kind of problem are you having? Select all that apply.
Pest Control in Kenosha
If you're battling bugs, rodents, or other vermin in your home, don't give up hope! Instead, trust the expert exterminators here at A-Action. With our winning combination of effective products and strategic application techniques, no infestation is too much for our pest control in Kenosha. When you choose our pest services, you're guaranteed:
A free, thorough inspection to scour your home for signs of critters.

Open communication

with our friendly, knowledgeable exterminators.

Treatments that are tailored to your home.

Elimination of the pests

that are currently bugging you.

Routine exterior treatments

to maintain a barrier against critters.
Image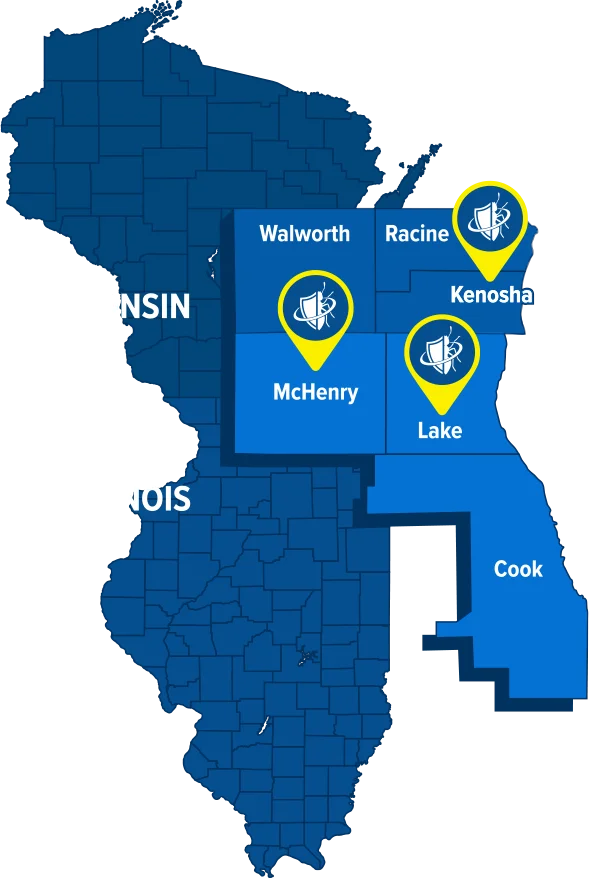 Custom Pest Treatments for Your Home
Your home is unique, so your pest control plan should be, too. That's why we tailor our solutions to your specific situation, ensuring you receive the highest quality care possible. Whether you've already spotted critters in your home or simply want to be proactive in keeping them out, our team can get the job done in no time. The exterminators at A-Action offer a variety of services, including:
Cockroach Control
Ant Control
Spider Control
Earwig Control
Cricket Control
Mice Control
Silverfish Control
Centipede Control
Rat Control
And more!
The A-Action Difference
As a locally-owned company, we're more than just exterminators—we're your neighbors, too. We know firsthand how frustrating it is to have unwanted guests take over your home, which is why we work hard to provide the best pest control in Kenosha. Our customers are our top priority, and we show it by going the extra mile whenever we can to give you the service and relief you deserve. With our team of expert exterminators on your side, pests don't stand a chance!
Wasp Exterminators in Kenosha
Stinging insects such as wasps and hornets can range from simply being a nuisance to being a serious health risk. Whatever the extent of an infestation, it is certain that nobody wants stinging insects around their home for any extended period of time. If you are struggling with these pests on your property, then it may be time to call in the professionals for hornet and wasp removal. At A-Action Pest Control, we give our expert exterminators the best tools and equipment to handle any stinging insect infestation, no matter how big, to help you get back to being able to enjoy your home. 
When you choose our wasp exterminators in Kenosha, you can expect: 
A complete home inspection to identify the insect and locate any nests. 
Active removal of all stinging insects and their nests using environmentally friendly products to help keep you and your family safe. 
Preventative measures and teaching from our trained exterminators to help keep stinging insects away longer term. 
Your satisfaction guaranteed! If you have any issues following treatments, then we will return and re-treat for free!
Mosquito, Flea, and Tick Exterminator in Kenosha
Sick and tired of sharing your home or yard with bloodsucking pests? You're not alone. Fleas, mosquitoes, and ticks reproduce rapidly and can infect you and your loved ones and pets with a range of dangerous illnesses, from Lyme Disease to West Nile Virus to Typhus! For comprehensive protection, look no further than your neighbors at A-Action Pest Control! We pride ourselves on providing high-quality flea, tick, and mosquito control based on trust, integrity, and high-quality customer service. 
Comprehensive Exterior Pest Control
When you partner with A-Action for your yard pest control you can expect full protection from mosquitoes, fleas, and ticks. Our expert exterminators will provide you with:
A thorough inspection of your yard to identify where these bugs are living.
Family-and-pet-safe treatments administered by a trained mosquito exterminator.
Recurring monthly treatments to keep these insects gone permanently.
Our satisfaction guarantee!
Contact us today to learn more about what we can do to help. Having these pests take over your yard isn't ideal, that's why our exterminators are here to help. What are you waiting for?  Get the relief you deserve and give us a call today!
Rodent Exterminator in Kenosha
Seeing a rodent scurry around the corner is enough to stress out any homeowner. Not only are they unsettling to see, but rodents can also put you and your family at risk for disease while damaging the inside of your home. Luckily, you don't have to put up with rodents forever! Our rodent control is here to effectively and efficiently eliminate your problem, letting you relax in your own home again.
Humane and Effective Rodent Treatments
Instead of attempting ineffective DIY rodent treatments, trust the professional exterminators at A-Action Pest Control for all your rodent control needs. Our exterminators have been providing relief to families just like yours for almost 30 years, so you can feel confident that you're in good hands. With our rodent control in Kenosha, you can expect:
A detailed rodent inspection to identify the entry points that rodents are using.
Custom rodent treatment options that fit your home's unique needs.
Strategically placed humane bait stations.
Exclusion repairs that seal all entry points, providing long term protection from rodents.
Elimination of food sources and other features that are drawing rodents to your home.
Asian Lady Beetle Exterminator in Kenosha
They say fall is the best time of year, but it can be hard to enjoy when you're dealing with a pest infestation. And just like you, bugs enjoy being inside during the cooler months. Luckily, here at A-Action Pest Control, our knowledgeable exterminators are ready to handle a variety of fall invaders. When you partner with us for Asian Lady Beetle Control in Kenosha, we'll make sure you know you're in good hands, with high-quality service and even better results. 
Our team of exterminators works hard to eradicate the following fall invaders:
Stink bugs

Boxelder bugs

Asian Lady Beetles
Service Designed for Your Convenience
We know that life gets busy, which means you might not have the time to schedule your inspection during your peak hours. We offer flexible scheduling options for this reason. If you're in a bind or need help fast from our exterminators, we'll do our best to accommodate same-day requests. By working with A-Action Pest Control, you're guaranteed to forget any past experiences that weren't up to your standards. Our team will make sure you're 100% satisfied, every time. 
Get $25 Off Your Initial Pest Control Service
As a thank you for choosing A-Action, we have a special thank you for all our new customers! When you sign up for our treatments in Kenosha right now, you'll save $25! Still searching for savings? Take a look at our other coupons for deals on our other services!
Areas We Service Around Kenosha
Brighton
Somers
Wheatland
Bristol
Union Grove