Award Winning Pest Control in Libertyville
What kind of problem are you having? Select all that apply.
Pest Control in Libertyville
Having pests in your home can be stressful, but getting rid of them is a breeze when you choose A-Action for your pest control in Libertyville. When you have a critter problem, our highly-trained exterminators in Libertyville will come up with a customized treatment plan to fit the unique needs of your home. With the best available solutions, friendly and personalized service, and quick response time, you're sure to see results in no time.
Family Owned Pest Control Company Since 1988
Here at A-Action Pest Control, we pride ourselves on being a local pest control company with a history of family ownership. Since 1988, we've been helping homeowners in the Libertyville community solve their vermin problems while simultaneously forming lasting relationships with our customers. The people we serve are our top priority, which is why we strive to offer a high standard of customer service that keeps customers coming back for all their needs. To show just how much our customers mean to us we offer a variety of coupons so they can save money while enjoying a pest-free home.
Image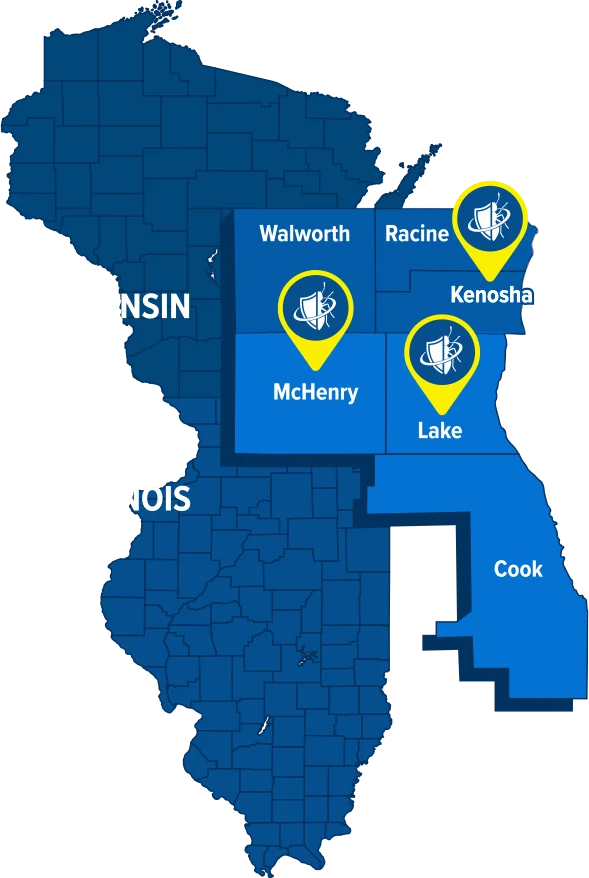 Rodent Control in Libertyville
Discovering you have a rodent infestation can disturb your peace of mind and leave you feeling uncomfortable in your own home. Not only are rodents destructive, but they also spread a variety of diseases that can make you and your family very sick. Due to their elusive nature, rodent control in Libertyville is best left to the professional mice exterminators in order to yield the most effective results. 
Protect Your Home and Save $50 on Rodent Services
At A-Action, we're here to protect you, your family, and your home from the effects of rodents. We're also here to help you save money by offering affordable, effective services. When you sign up for our rodent control in Libertyville, you can save an additional $50 on your rodent control treatment! If you're interested in even more ways to save, check out our other coupons for pest control in Libertyville.
30+ Years of Trustworthy Rodent Control
We've spent 30 years providing exceptional rodent control in Libertyville, and our reputation reflects that. When you partner with A-Action, you can always trust you're getting the highest standard of service possible. Our friendly mice exterminators in Libertyville keep you informed, answering questions, and addressing concerns, so you can feel confident about what's happening in your home. As a locally owned, family pest control company, we care about our neighbors and will do everything in our power to keep your family safe. Our mice exterminators will: 
Thoroughly inspect your home to determine how rodents are entering your space.
Identify the locations of their nests, as well as areas with heavy activity.
Strategically set up humane bait stations.
Seal off the previously determined entry points, keeping out future rodents.
Eliminate food sources and other hazards that draw rodents into your home.
Give you back peace of mind, and a rodent-free home.
Stinging Insect Control in Libertyville
If you want to relax this summer without the threat of painful stings from wasps, bees, hornets, or yellow jackets, then you need A-Action Pest Control. We are proud to provide the best power spray treatment in Libertyville so you can enjoy the beautiful weather without worry. Whether it's firing up the grill for a barbecue or watching your kids run around, you deserve a yard you and your family can feel safe in.
Get Rid of Stinging Insects in Just One Treatment
Over 30 years of providing stinging insect control in Libertyville has resulted in our powerful Power Spray Treatment that gets the job done in just one visit. You can't ask for faster results than that! When you trust us with your stinging insect control in Libertyville, you can also expect:
Treatment times based on what's convenient for you. In some cases, we can even meet you on the very same day!
A thorough inspection of every nook and cranny on your property to search for stinging insects that try to hide.
Discovery of all active nests on your property.
Elimination of all current stinging insects through eco-friendly means.
Preventative measures, such as totally removing the nest materials, to prevent future infestations.
While bees may be a nuisance when their home is too close to yours, they're ultimately beneficial. Bees are responsible for pollinating a third of the world's agricultural output. Our team at A-Action is proud to protect our pollinators by working with local beekeepers to safely relocate them.
If You Aren't Satisfied, Neither Are We
Here at A-Action Pest Control, we believe in going the extra mile whenever possible, because our customers deserve nothing but the best. We use our experience and advanced methods to safely and effectively provide stinging insect control in Libertyville, getting the job done right. While we're confident in our treatments, we aren't satisfied with them until you are. If you're unhappy with our services for any reason, simply just give us a call and one of our stinging insect exterminators in Libertyville will happily return to re-treat at no additional cost to you.
CONTACT US TODAY FOR A FREE QUOTE
Mosquito, Flea, & Tick Control in Libertyville
Whether you're trying to relax on your patio or working hard pulling weeds in the garden, mosquitoes, fleas, and ticks can be not only a huge menace but a danger as well. These small pests can spread viruses like Zika and diseases like Malaria and Lyme. When you want to enjoy your time outside without worrying about your pets or family, it's time to call the exterminators at A-Action Pest Control. We'll provide the mosquito, flea, and tick control services you need.
Instantly Save $25 On Mosquito Treatments
Since we're a locally-owned pest control company, we care about the health and well-being of the families in our community as much as we do our own. When you partner with A-Action for mosquito, flea, and tick control in Libertyville, you can trust that our team of exterminators will always have your best interests in mind. This is why, when you sign up with A-Action for our mosquito treatments in Libertyville, you can save $25 on your first mosquito control service. Please note that this offer cannot be combined with another offer and is valid for new customers only.
Wood Destroying Insect Reports in Libertyville
Are you a real estate broker trying to sell a house? A-Action Pest Control offers wood-destroying insect reports in Libertyville to help realtors move the sales process forward. Our inspections usually take less than an hour to complete and are accurate and thorough. We provide VA, FHA, and other conventional termite reports that are compliant to NPMA standards. The wood-destroying insects we inspect for include:
Subterranean Termites    
Drywood Termites       
Carpenter Ants
Carpenter Bees       
Wood Destroying Beetles
During the inspection, one of our expert exterminators in Libertyville will let you know of any possible pest problems they've found, so you can get those taken care of proactively. All of our exterminators are state certified, so you can trust that they know exactly what to look for and can provide you with the most accurate report possible. On top of that, we've won the Angie's List Super Service Award 6 years in a row, meaning you'll not only get a thorough report, but also a high standard of customer service. When you need wood-destroying insect reports in Libertyville, A-Action is the smart choice for realtors.
6x Angie's List Super Service Award Winner
Here at A-Action, we believe that providing the best service is only possible if our exterminators have the skills, tools, and know-how to do the job right. All of our exterminators in Libertyville are expertly trained on the latest pest control solutions and required to maintain a state certification so we can deliver the best possible results for you. You can rest assured that when an A-Action exterminator shows up on your doorstep, your concerns will be listened to and taken care of with the utmost care and respect. With 6 Angie's List Super Service Awards under our belts, you're sure to be satisfied with the service you receive from our team of expert exterminators! Check out our online reviews from our Lake Zurich location!