Pest Control in Lake Bluff Starting at $44/Month!
What kind of problem are you having? Select all that apply.
Pest Control in Lake Bluff
Pests like ants, spiders, and mice are harmless enough when they're outdoors, far away from your property, but it's a different story when you find them inside your home. Whether you're worried about bites, stings, contamination, or property damage, you have good reason to want pests gone as soon as possible. Each type of infestation poses its own unique threat to the health and safety of your household. Get the quick relief and lasting protection you need when you partner with A-Action Pest Control for pest control in Lake Bluff. 
We provide removal and prevention of a wide variety of pests including:
Ants
Centipedes
Clover mites
Crickets
Earwigs
Beetles
Millipedes
Pill/sow bug
Spiders
Cockroaches
Silverfish
Rodents
Mosquitoes
Stinging insects
Termites
And more
Image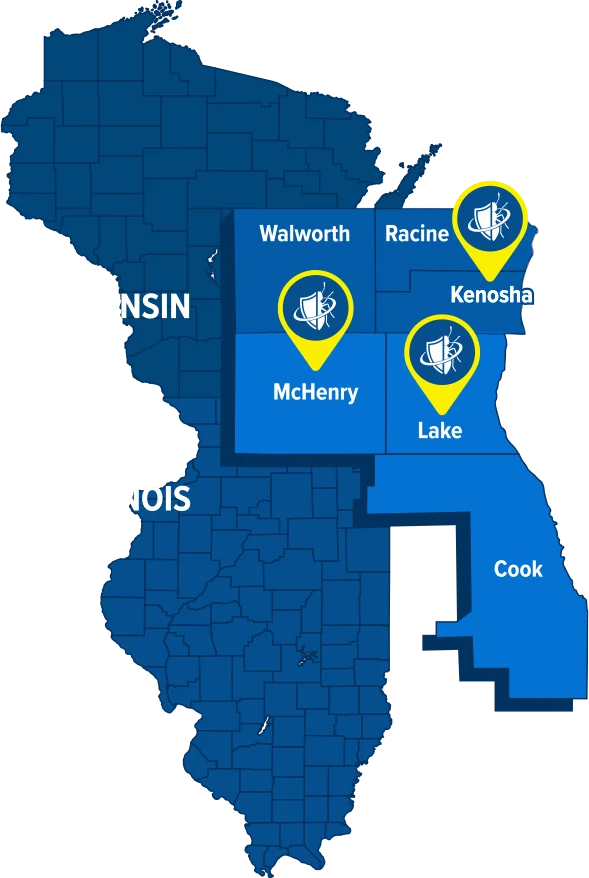 Recurring Treatments for the Best Results
Getting rid of any pest infestation is a good feeling. More important than getting rid of these critters, however, is keeping them away. A one-time service isn't usually enough to provide the long-term protection you're looking for. That's why at A-Action Pest Control, our exterminators from Lake Zurich offer a variety of recurring pest control packages, each one designed to eliminate any bug or rodent and keep them away for good. When you choose one of our continuous treatment plans, you will receive the following services: 
A thorough pest inspection performed by one of our state-certified exterminators to identify the type of critters you're dealing with.
A consultation in which we share our findings and work with you to create a treatment plan that will meet your unique needs.
The use of safe, highly effective pest treatments to eliminate existing infestations.
Routine treatment of the exterior of your home to maintain a long-lasting, protective barrier against pests.
Season specific pest control packages