Get a Free Quote on Pest Control in Highland Park
What kind of problem are you having? Select all that apply.
Pest Control in Highland Park
Family-owned, A-Action Pest Control treats you like members of the family; you're our neighbors! Our pest control company is dedicated to delivering intricate care to your home and family, providing you both with the attention and respect you deserve. Our exterminators get rid of pests through a strategic action plan best suited for your home. 
Our pest exterminators specialize in the following services:
Cockroach control
Spider control
Cricket control
Silverfish control
Rat control
Ant control
Earwig control
Mice control
Centipede control
And more!
Image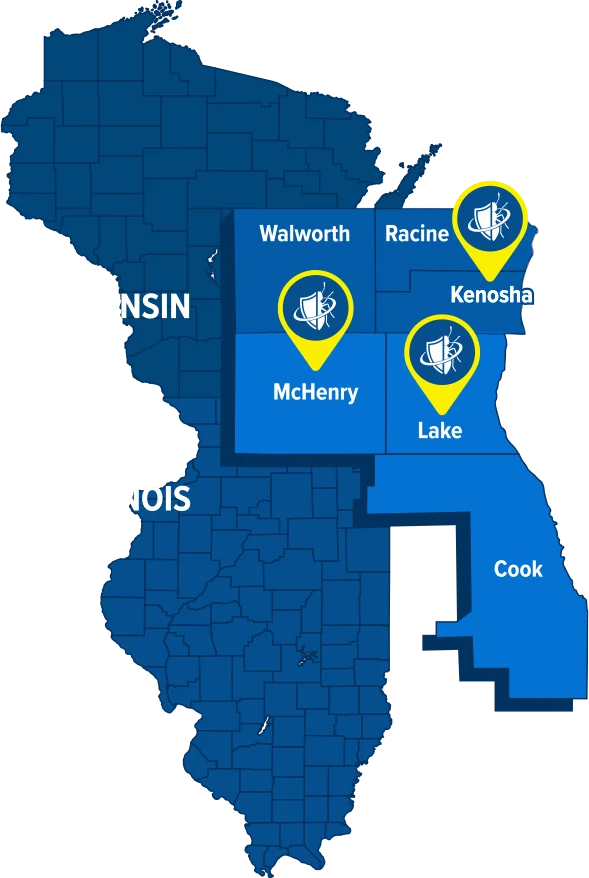 Highest Quality Care Guaranteed
We want to make sure you receive the highest quality care specific to your home's needs. Our expert technicians are trained in providing top-of-the-line treatment from inspection to infestation protocol. Looking to treat a current infestation or wanting to be proactive? Our exterminators guarantee treatment that is quick and efficient, protecting you and your family against pests no matter the season.
What can you expect from A-Action Pest Control? Our treatment includes:
A detailed inspection where our certified exterminators will identify the location and type of bugs at your home.
Clear communication and discussion of findings, informing you first-hand what infestations are occurring and what we can do to solve the problem.
Personalized treatment plans unique to your home.
Elimination of pests. 
Exterior treatments, provided routinely to prevent new infestations. 
Save $25 Off Pest Control 
Partnering with A-Action Pest Control means a partnership of reliable care and reasonable savings. Sign up with us for pest control in Highland Park and save $25 off your initial service. We pride ourselves on our long-standing dedication to serving our community—this dedication extends to additional special offers. Learn more and explore the additional coupons on our site. Not located in Highland Park? We also service pest solutions in Antioch and their surrounding cities. 
Stinging Insect Control in Highland Park
Stinging insects quickly put a damper on your outside fun by buzzing and getting in your way. They are more than just annoying, especially if you are unlucky enough to feel the pain of their stings. If you are allergic, it could mean a trip to the emergency room. Luckily for you, A-Action specializes in stinging insect control and removal so you can enjoy your fun outdoors.
When you call us for stinging insect control in Highland Park you can expect:
A complete inspection of your property

to find current and potential nesting places.

Removal of all stinging insects

and their nests with our safe, eco-friendly products.

Use of our Power Spray Treatment

to banish stinging insects in one treatment.

Preventative measures

to hamper future nest construction.

Guaranteed satisfaction!
But What About the Honeybees?
We understand the importance of protecting the honeybees. Although A-Action will spray for other stinging insects, we don't if we find honeybees. We will call in a local beekeeper to save these essential workers by removal of them from your yard and relocation to a safe place!
Rodent Control in Highland Park
Rats and mice can wreak havoc on your home and your health, chewing on electrical wires and spreading diseases. If you want to make sure that your home is safe from rodent infestations, you need to call the local rat and mouse control professionals at A-Action Pest Control. We have been dealing with rodent problems in Illinois and Washington for more than 30 years, and our experienced technicians know all the best tips and tricks for getting rid of all the most common Highland Park pests. 
Our simple but reliable methods for dealing with rats and mice include: 
Inspecting your home

for rodents and potential entry points. 

Humane bait stations

to trap whatever rodents are threatening your home. 

Routine follow-up visits

to inspect bait stations. 

Preventing future rodent problems

by closing off entry points and getting rid of food and water sources. 
When you're in need of rodent control in Highland Park, look no further than A-Action Pest Control and our 100% guarantee for mice and rat extermination. If you're struggling with a rodent infestation, you can save $50 on our rodent control services or $25 when you refer a friend. 
Mosquito Control in Highland Park
Are you tired of being bitten by mosquitoes and ticks in Highland Park, IL? Look no further than A-Action Pest Control for all your mosquito and tick control needs. With over 31 years of experience, we offer personalized treatments that are guaranteed to give you unmatched results. Here's what our comprehensive mosquito control in Highland Park includes:
Prevention: We'll help you identify and fix areas that are breeding grounds for mosquitoes and ticks, ensuring they never have a place to thrive.
Larvicides in targeted areas: We'll apply larvicides in areas where mosquitoes breed, reducing their population and ensuring long-term control.
EPA-approved liquid sprays: Our family-friendly treatments will get rid of these pesky bugs without harming you and your loved ones.
Mosquito traps: Our expert control techniques include the use of mosquito traps to efficiently and effectively eliminate these biting insects.
Satisfaction guarantee: If you're still dealing with mosquitoes and ticks after our service, just let us know, and we'll be back to re-treat for free.