Years of Pest Control Experience in Paddock Lake
What kind of problem are you having? Select all that apply.
Pest Control in Paddock Lake
No matter the size of your infestation, we have the experience and the means to tackle whatever you're facing.  When A-Action is on your side, you can feel confident that pests won't be hanging around your home for long.
Our treatments protects you from a variety of pests, including:
Ants
Centipedes
Earwigs
Spiders
Silverfish
Rats
Mice
Cockroaches
And much more!
Whether you're dealing with cockroaches in the basement or ants in the kitchen, there's no guarantee that DIY treatments will get the job done. After failing to eliminate them yourself, it's easy to get discouraged and feel like you're stuck with pests forever. But luckily that's not the case!
Image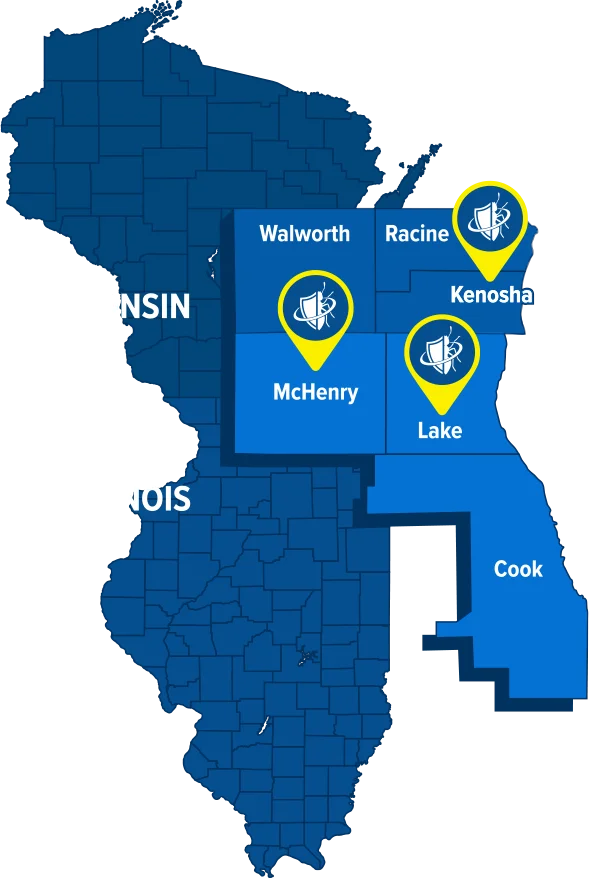 Pest Protection That Never Stops
Our services will kick pests to the curb so you can feel comfortable in your own home.
When our exterminators are at your home, you can expect:
A free, no-strings-attached estimate that lets you know you're getting a great deal.
Professional technicians who listen to your concerns and happily answer your questions.
Effective treatment regimens that keep you pest-free all year long.
Total elimination of the pests in your home.
Save $25 on Your First Pest Service
We believe that great pest control in Paddock Lake shouldn't break the bank. You deserve to have a pest-free home without worrying about your budget, which is why we maintain affordable prices. In addition, we also love running deals that will help you save even more. Right now, when you sign up for our treatments, you can save $25!
Rodent Exterminator in Paddock Lake
If you see furry creatures scurrying around your kitchen or find droppings around the house, it may be time to call rodent exterminators. Not only can rats and mice make you uncomfortable, but they can actually carry deadly diseases. You may have tried using store-bought solutions, but they generally see a low rate of success when it comes to eliminating infestations. Thankfully our team has the training, equipment, and over 30 years of experience to ensure we get rid of rats and mice as quickly and efficiently as possible.
How our rodent control service includes:
A thorough inspection of the property to determine the extent of the current problem and identify entry points. 
Treatment options that are specific to your home and needs.
Rodent removal via eco-friendly bait and trap solutions. 
Exclusionary sealing to prevent further rodent infestations. 
$50 off your First Rodent Removal Treatment
Mice and rats pose a huge inconvenience, causing you undue stress and concern while posing a health risk to your family and pets. We want to make it as easy as possible for you, which is why we offer $50 off the first service for all new customers!
Get Rid of Pests—Guaranteed
We work fast to get you living in a pest-free home and back on track, and we're confident in the effectiveness of our pest control in Paddock Lake. We know our job isn't done until you're happy, which is why do our best to remedy any pest issues that pop up. This includes re-treating for free if pests persist after our treatments! Not in Paddock Lake? Our technicians also offer pest services in Kenosha and its surrounding cities!