Pest Control in Arlington Heights Starting at $44/Month!
What kind of problem are you having? Select all that apply.
Pest Control in Arlington Heights
Pest infestations can quickly get out of hand, going from a minor inconvenience to a major issue in just a few days. If you spot unwanted pests in your home, trust the expert exterminators here at A-Action Pest Control. Our pest control in Arlington Heights will quickly and effectively eliminate your pest problem. Whether it's ants in the kitchen, silverfish in the bathroom, or wasps in the backyard, we've got a solution for you!
Our pest control in Arlington Heights includes a variety of services, such as:
Ant control
Cockroach control
Spider control
Rodent control
Stinging insect control
Mosquito control
Termite inspections
And more!
Image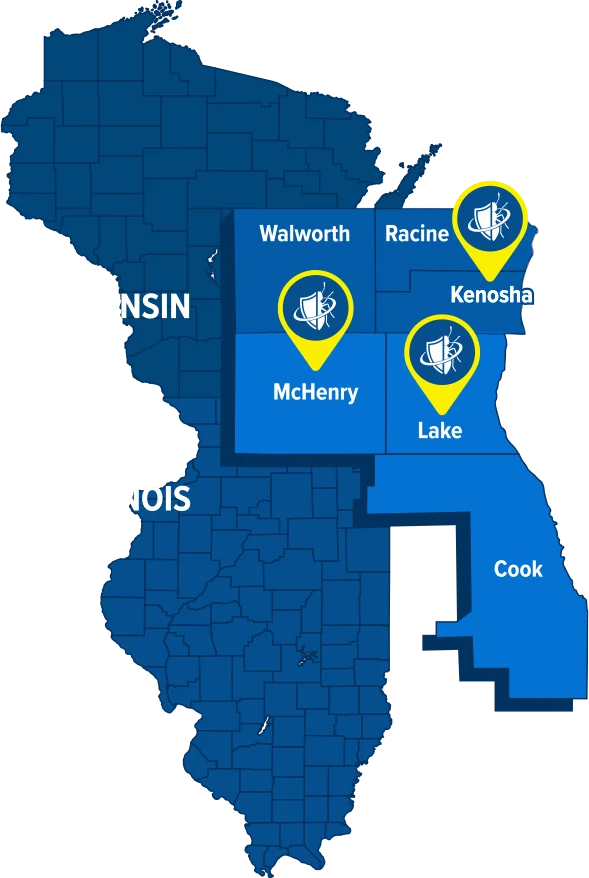 Lasting Relief from Pests
Sharing your home with pests is unsettling, and it's normal to want them gone as soon as possible. While DIY solutions may seem tempting, they fail to get to the root of the problem and only offer short-term relief. Our professional pest exterminators in Arlington Heights are trained to eliminate pests at their source. This gives you lasting results and peace of mind you can count on.
When you choose our pest control in Arlington Heights, we will:
Conduct a thorough inspection of your home to search for signs of pest activity and determine the extent of the infestation.
Create a custom treatment plan based on our findings that fits the unique needs of your home.
Use effective products and practices to get rid of pests that are currently inside your home.
Schedule routine exterior treatments to create a protective barrier and prevent future pest infestations from occurring.
Rodent Control in Arlington Heights
Dealing with rodents can be a headache. You only need one invader to start an infestation—in fact, one mouse can produce as many as 60 offspring a year. To keep your home protected year-round from these destructive pests, you need to call in professional exterminators. Here at A-Action Pest Control, our team of pest control technicians have been providing guaranteed rodent control in Arlington Heights to our community for over 30 years. With plans starting as low as $35/month, our treatments are the fast, reliable solution you need to get rid of rodents in no time.
Save $50 on Rodent Control
When you're looking for a rodent control company to help you protect your home, it's important to find solutions that are both affordable and effective. Our exterminators at A-Action Pest Control provide treatments based on trust, transparency, and building lasting relationships with our clients. We are committed to providing quality service for a fair price. When you team up with us for rodent control in Arlington Heights, you can expect the following:
A thorough inspection by one of our trained rodent exterminators.
Installation of humane bait stations.
Repairs of entry points and treatment of contaminated areas.
$50 off for new customers!
Stinging Insect Control in Arlington Heights
Of all pests, stinging insects may be some of the hardest to ignore, especially if you have kids or pets. With their aggressive behavior and painful attacks, pests like wasps, bees, hornets, and yellow jackets require safe and effective elimination. Luckily for you, expert exterminators are right around the corner and ready to help you safely eliminate these dangerous pests from your property. Call A-Action Pest Control today for stinging insect control in Arlington Heights and get back to enjoying summers and springs outdoors!
SAVE $30 ON POWER SPRAY TREATMENT!  
Trust Our Expert Exterminators for Stinging Insect Removal
If you have ever tried to remove a nest of hornets or yellow jackets yourself, then you know it's risky business. One wrong move and you could end up with hundreds of painful stings and potential health complications. When it comes to pests like bees, wasps, and hornets, we highly recommend you leave the job to an experienced pest control company like A-Action. We guarantee that with the following outdoor pest control services, we will keep you safe from all varieties of stinging insects: 
A thorough inspection of your property focusing on areas that bees and wasps like to make their nests.
Application of our one-time, all-encompassing Power Spray Treatment which has won awards for its effectiveness.
Removal of existing nests by an expert exterminator with the use of eco-friendly products.
Preventative services to ensure stinging insects do not return. 
Non-harmful honeybee removal by a local beekeeper to preserve the species.
FREE retreatments if you are not 100% satisfied with our stinging insect removal.