Pest Control in Antioch Starting at $44/Month!
What kind of problem are you having? Select all that apply.
Pest Control in Antioch
If you're looking for pest control near you, you've come to the right place! At A-Action, our exterminators in Antioch can eliminate unwanted houseguests for the long-term. Our treatments are not only guaranteed to remove any infestations, but they also work preventatively to make sure your home stays pest-free. Whichever plan is right for you, you can be sure that you will get the best pest control service in Antioch!
At A-Action, we believe that peace of mind is extremely important, and we aim to provide our customers with just that. We are dedicated to providing families in Antioch with pest-free homes, and peace of mind is obvious from our very first visit. Our treatment plans are customized to fit the specific needs of your situation, designed to target your infestation safely and efficiently. For long-term protection, we offer a variety of pest control plans based on your budget and the level of protection you need to live comfortably in your home.
Image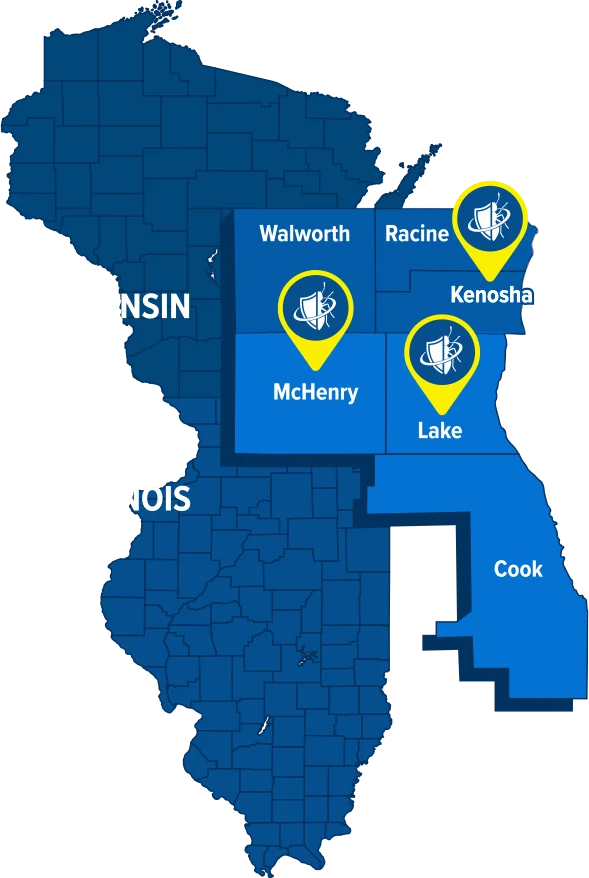 Get $25 Off Your Initial Pest Service
New customers are invited to take $25 off their initial treatment when choosing A-Action Pest Control. Want other ways to save? Check out our coupons for other special offers on other services! You can trust A-Action to defend your home with services, including:
Ant control
Roach control
Cockroach control
Spider control
Bed Bug control
And more!
Family-Friendly Pest Treatments
We care about giving you the pest-free home you deserve while keeping you and your loved ones safe while we do it. Here at A-Action, we're proud to offer family, pet, and eco-friendly treatments in Antioch, giving you the protection you need without sacrificing your peace of mind. Our experienced exterminators use the Integrated Pest Management (IPM) approach to ensure that we always select a problem-solving strategy that balances mechanical, biological, and chemical techniques, allowing us to be as environmentally responsible as we can while still providing treatments that are effective in keeping your home pest-free.
Rodent Control in Antioch
Realizing you have a rodent problem can be extremely worrisome. Spreading disease, causing structural damage, and chewing through electrical wire, rodents can wreak havoc on your home and impact the health of you and your family. Evicting rodents from your home through DIY methods can be a challenge, causing frustration and leaving your home vulnerable to further damage.
Protect Your Home—Save $50 on Rodent Services
Rodents can put you, your family, and your home at risk. Now, when you sign up with A-Action Pest Control for our rodent control in Antioch, you can save $50 on your rodent control service! Please note that this offer cannot be combined with another offer. When you need effective, long-term rodent control, give the expert team at A-Action Pest Control a call! When one of our friendly exterminators visits your home, you can expect:
A thorough inspection of your home to identify potential entry points and customize a treatment plan.
Bait stations set up in affected areas.
Perform a follow-up visit to inspect bait stations and determine any newly infested areas.
Seal all entry points, eliminate food sources, and treat any newly infested areas
Mosquito, Flea, and Tick Control in Antioch
With the heat come mosquitoes, fleas, and ticks, annoying insects that leave behind itchy bites and can even transmit dangerous diseases. With A-Action on your side, we can stop these pests from crashing your backyard barbecue with our reliable mosquito, flea, and tick control. Let our experts take care of what's bugging you!
When you choose our Antioch mosquito, flea, and tick control, you can expect:
A thorough inspection done by one of our state-certified exterminators.
The best treatment option tailored for your specific needs, we don't believe in cookie-cutter treatments!
High-quality, EPA-approved treatments that target pests, but are safe for you and your family.
Preventative monthly treatments to eliminate pests before they can even become an issue.
Mosquito Control in Antioch
Mosquitoes leave behind annoying, itchy welts that can hang around and cause discomfort for days. They can also transmit a variety of dangerous diseases that can impact the health of your loved ones, such as malaria, dengue, and West Nile virus. Even your pets aren't safe from mosquito bites, as they're at risk of contracting heartworms. To keep every member of your home safe, rely on our Antioch mosquito control! If mosquitoes are forcing you to stay inside, A-Action has just the solution for you. We'll kick mosquitoes to the curb and help you save money while doing it! Now, when you sign up for our mosquito control, you can save $25 on your first service!
LEARN MORE ABOUT OUR MOSQUITO TREATMENTS
Flea Control in Antioch
Fleas can hop onto both you and your furry friends, resulting in itchy bites. Prolonged itching can also result in a secondary infection, leading to further pain and discomfort. Due to their small size, fleas can easily be ingested by pets and cause internal issues including tapeworm infections. Rather than risk health complications, call A-Action for professional flea control!
Tick Control in Antioch
Ticks are small enough that you may not even notice you've been bitten by one until you look down and notice it. Completely removing a tick is not only difficult but can be painful as well. Another risk associated with ticks is the possibility of developing diseases like Rocky Mountain Spotted Fever and Lyme Disease. Rather than worry about what could happen, keep your family safe from these tricky bugs with professional tick control in Antioch.
Stinging Insect Control in Antioch
Do you have stinging insects, such as wasps and yellow jackets, in your home and are too afraid to get rid of them? Not a problem! A-Action Pest Control is here to protect you and your family. We offer comprehensive stinging insect control in Antioch for quick relief and long-lasting protection, so you don't have to lift a finger! 
$30 Off Power Spray Treatment
Whether you're looking for wasp control, yellow jacket control, or general stinging insect control, we have just what you need! At A-Action, we believe in the importance of building lasting professional relationships with you, our neighbors, and we're dedicated to providing quality service that won't break the budget. That is why we are offering $30 off our Power Treatment in Antioch if you sign up today!
Highly Trained Stinging Insect Exterminators
Our exterminators are knowledgeable and professional and are guaranteed to provide you with high-quality stinging insect control in Antioch. When you choose us for stinging insect control, you can expect: 
Flexible scheduling to best suit your availability and time-sensitive needs.
A thorough inspection of your property for areas and degree of infestation.
The use of eco-friendly products by a state-certified exterminator to get you the risk-free protection you deserve. 
Long-term protection from stinging insects for your peace of mind.
Your 100% satisfaction, guaranteed!
Asian Lady Beetle Control in Antioch
Each year as the weather gets cooler, more and more ladybugs seem to come inside. However, these imposters aren't who you think they are – they are asian lady beetles, a messy and stinky look-alike. Other disruptive pests that enter your home in the fall are the box elder beetle and stink bugs. The smelliness of stink bugs and asian lady beetles and the sneakiness of the box elder bug make removal best left to the experts! Our fall invader protection at A-Action is offered as a stand-alone service or as part of our seasonal pest control.
When you trust us for asian lady beetle control in Antioch, you can expect:
A thorough inspection to identify your invaders and where they are entering.
Removal and preventative treatments for fall pests.

Suggestions for closing up entry points.

Guaranteed satisfaction!