Protect Your Home with Pest Control in Pleasant Prairie
What kind of problem are you having? Select all that apply.
Pest Control in Pleasant Prairie
Unfortunately, you aren't the only one who wants to hang out in your living room or snack on scraps in the kitchen. Pests are drawn to your home in search of shelter and food, resulting in unwelcome invaders that make you feel uncomfortable in your own space. Luckily, our Pleasant Prairie exterminators know exactly what to do to give you back a pest-free home.
Our Pleasant Prairie pest control protects you from most household pests, including:
Ants
Centipedes
Earwigs
Spiders
Silverfish
Rats
Mice
Cockroaches
And much more!
 When you're searching for a pest control company in Pleasant Prairie, the last thing you want is to be roped into unnecessary services and add-ons. Here at A-Action, we always start things off with a free, no obligation estimate. Instead of relying on tricks and hidden clauses, we want our services and results to speak for themselves.
Image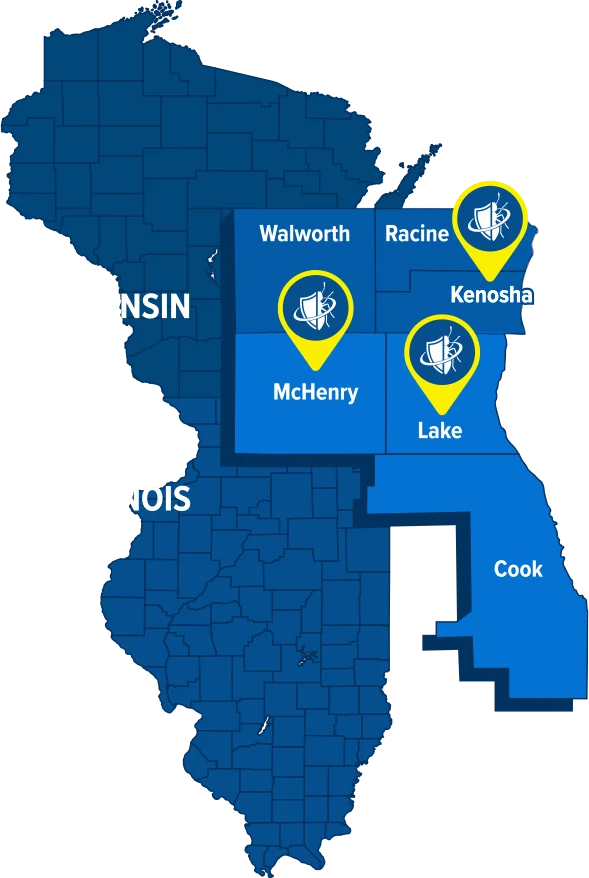 Pest Control Without the Pressure
In addition to open communication with our customers, our Pleasant Prairie pest control also includes:
A detailed inspection performed by an experienced Pleasant Prairie exterminator.
Our thorough list of findings, including which pests you're dealing with and where.
Specialized treatments that will provide effective relief for your unique situation.
Routine exterior treatments to prevent new pests from re-infesting your home.
Total Pest Elimination or We'll Re-Treat
Pest control in Pleasant Prairie is a big deal. It can help you feel comfortable in your home, keep your family safer, and protect the beauty of your home. That's why our Pleasant Prairie exterminators take special care to ensure they get the job right the first time. If you do happen to spot pests after our treatments, we'll return to re-treat the affected areas free of charge! You don't have to worry about the what ifs when your pest control company has your back like we do.
Receive $25 Off Your First Pest Service
At A-Action, we believe everyone should have access to great pest control in Pleasant Prairie. No one should have to put up with pests for a moment longer than necessary, which is why we do our best to ensure our services are available when you need them, as well as affordable. To sweeten the deal even further, we're currently offering $25 off your first pest service! All you have to do is sign up today! If you are looking for services outside of Pleasant Prarie, see where else our Kenosha exterminators service!
Rodent Control in Pleasant Prairie
It comes as no surprise that rodents often make their way into homes to find food, shelter, and warmth. Sharing your home with unsanitary animals does more than just threaten the health of your loved ones and pets -- rodents and their chewing habits can also cause structural and electrical damage to your home. 
When you choose to partner with A-Action Pest Control experts for rodent control in Pleasant Prairie, you'll no longer have to share your home with these risky creatures. Plus, our effective, family-friendly rodent control in Pleasant Prairie starts at just $39 a month, so you can protect your home and loved ones from rodents at a reasonable cost.
SCHEDULE YOUR INITIAL SERVICE!
Guaranteed Results for Controlling Mice & Rats
Over-the-counter and DIY methods tend to temporarily mask pest problems, rather than get to the root of the issue. There's no need to waste your time and money on solutions that don't work. When you make the right decision and trust in our rodent control in Pleasant Prairie, you will receive high-quality care from trusted, knowledgeable experts who will do the following:
Complete a thorough rodent inspection and evaluate the severity of damages.
Apply family-friendly, minimally-invasive, and humane bait stations.
Utilize the most innovative Integrated Pest Management approach in the industry.
Identify and seal all infested areas and entry points.
Rid your home of contamination with effective rat and mice control.
Service Backed by a 100% Satisfaction Guarantee
A rodent infestation is not something you want to experience, but if you do, you can trust our rodent control on Pleasant Prairie to get the job done right. With our rat and mice control in Pleasant Prairie backed by a 100% satisfaction guarantee, you can trust that rodents won't make their way into your home ever again. Should you find new rodents entering your home in between treatments, we'll make it right with free retreatments.