Save $25 on Pest Control in Twin Lakes
What kind of problem are you having? Select all that apply.
Pest Control in Twin Lakes
We have over 30 years of experience with helping homeowners just like you, and our advanced products and treatment methods are guaranteed to have you seeing results in no time.
Our Twin Lakes pest control protects your home from nuisances like:
Ants
Centipedes
Earwigs
Spiders
Silverfish
Rats
Mice
Cockroaches
And much more!
Receive $25 Off Your Initial Pest Service
Pests in your home is unsettling, and you deserve to have them totally eliminated as soon as possible. We understand that pests don't give you a heads up when they're about to move in, so infestations can occur at inopportune times. To make things as easy as possible, we keep our prices for pest control in Twin Lakes as affordable as possible, as well as put out coupons that can help you save big! Right now, you can save $25 on your initial Twin Lakes pest control service when you sign up today! 
Image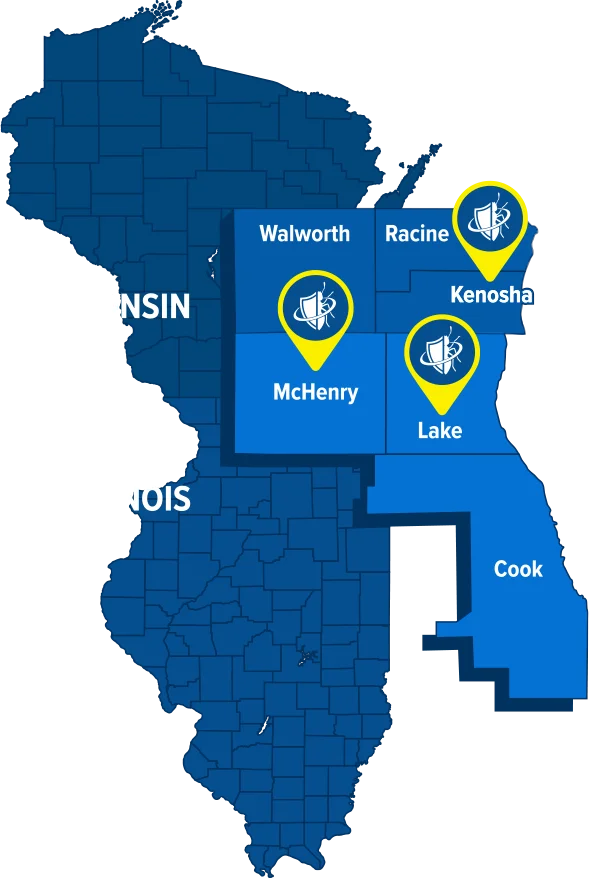 Straightforward Pest Control
It's easy to get confused about what's happening in your home when industry-specific jargon is used, which is why we keep things simple. We know letting a company into your home takes a lot of trust, so the least we can do is keep you informed. Throughout our services, one of our Twin Lakes exterminators will happily address all your questions and concerns, letting you feel confident about the treatment you're receiving. When you choose A-Action for your pest control in Twin Lakes, you can also expect:
A thorough inspection to determine what pests are present and how severe your problem is, performed by a certified Twin Lakes exterminator.
Collaboration with you to choose a solution that works for your home and family.
Customized treatments that quickly eliminate the pests in your home.
Routine treatments to the exterior of your home that prevent new pests from finding their way inside.
Careful Treatment from Locals Who Care
Here at A-Action, we pride ourselves on being a locally-owned and operated pest control company. We aren't a faceless corporation, instead, we're your neighbors. We take pride in helping our community by providing reliable pest control in Twin Lakes, treating each home like it's our own. When you choose locals to take care of your home, you know they have firsthand experience with the same pests you're currently battling, giving you the most effective treatment possible. When you trust us to handle your Twin Lakes pest control needs, your family becomes part of ours. Our products are top of the line, and our advanced techniques are tried and true. These elements, plus professional exterminators who always take special care in your home, let us provide the best pest control in Twin Lakes. When we're treating your pest problem, we don't stop until pests are eliminated from your home. That means if pests persist after we're done, all you have to do is give us a call and we'll return to re-treat at no additional cost!
Rodent Exterminator in Twin Lakes
Are you noticing gnaw marks and droppings and hearing unusual noises? Rodents may be residing in your home, but don't worry! We're experts at rodent control in Twin Lakes -- our rat and mice exterminators use the best treatment methods around to solve rodent problems and protect families from contamination. With removal services to get rid of mice and rats starting as low as $39 per month, you'll receive the relief you need at a reasonable rate!
Here's what to expect when you choose the A-Action rat and mice exterminators for rodent control in Twin Lakes:
We'll perform an initial inspection, gathering all details of your situation.
We'll place humane bait stations in identified problem areas.
We'll return to inspect bait stations to ensure total rat and mice control.
We'll seal entry points and treat contaminated areas.
Get $50 Off Rodent Control!
We here at A-Action understand your desire for quick relief from rodent activity, so we're dedicated to protecting your family and your budget. Right now, save $50 on your first service when you sign up for our rodent control program in Twin Lakes. If you need pest removal in Kenosha or its surrounding areas, this coupon is also valid. Trust the experts for rodent removal, and save!