Pest Control in Crystal Lake Starting at $44/Month!
What kind of problem are you having? Select all that apply.
Pest Control in Crystal Lake
Pests are a year-round problem—from ants invading in the summer to rodents nesting in the winter—which means that you should have a home protection plan that keeps you and your family safe all year. 
With over 30 years of experience, our team of experts will provide relief and protection for many critters, include:
Ants
Centipedes
Clover mites
Crickets
Earwigs
Beetles
Millipedes
Pill/sow bugs
Spiders
Cockroaches
Silverfish
Rodents
Mosquitoes
Stinging insects
Termites
And more! 
Image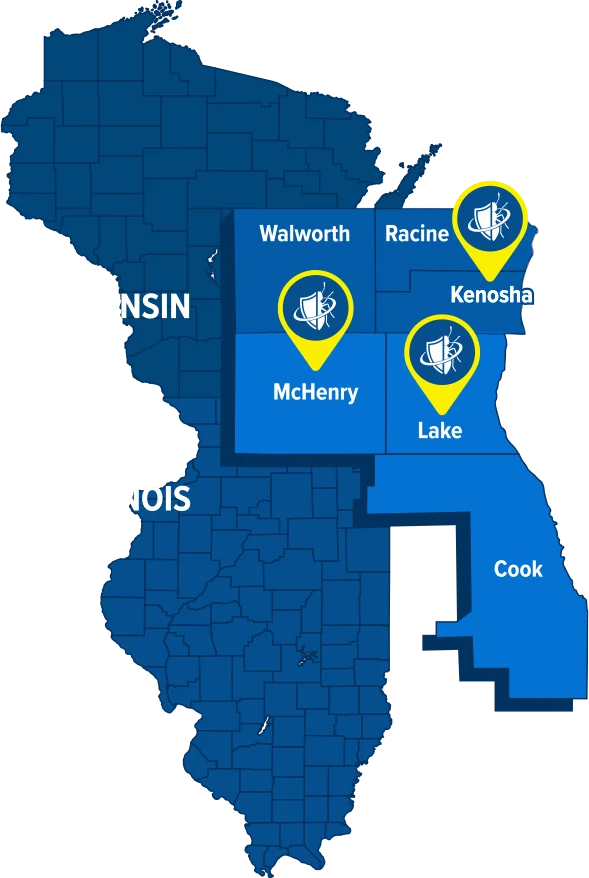 Customized Treatment Plans
Pests are unwanted even at the best of times and we want to make it as easy as possible for you to call us and get your pest problem solved. At A-Action, whatever pest control service plan you choose, you can be sure that it will be done by experienced technicians with the utmost care for your home. 
Our personalized  services consist of: 
A thorough inspection of your property for any signs of creepy crawlies. 
A unique treatment plan tailored exactly for the precise needs of you and your home. 
Removal of current pests using environmentally friendly methods where possible. 
Pest prevention treatments to keep your home secure from any potentially invasive pests. 
To make sure our treatments are affordable to all, we are offering $25 off all pest control services for new customers. 
A Locally Owned and Operated Company
We pride ourselves in being more than just another pest control company because we're also your neighbors. We know and understand all of the things that make Crystal Lake special and gear our treatment plan to target the pest problems in the area. Our friendly customer service team always steps up to help our local community! 
Working with you, for you
Making sure that our treatment schedules work for you is a very important part of who we are at A-Action Pest Control. We work hard to fit any treatment plans into your schedule to ensure the least amount of disruption to your home life. 
Rodent Control in Crystal Lake
 As far as unwelcome house guests go, rats and mice are at the top of the list. Rodents bring disease and destruction into your home with their incessant gnawing, ability to transmit serious illnesses, and contamination of your food. Unfortunately, the longer you wait to evict them, the more difficult they are to remove. The friendly rodent exterminators at A-Action Pest Control have the tools and knowledge to send these critters packing and quickly return order to your home. When you partner with us for rodent control in Crystal Lake, you can expect: 
A detailed home inspection

to fully understand your rodent infestation.

Placement of humane bait stations

near infested areas but out of reach of children and pets.

Follow-up visits

to monitor bait stations.

Elimination of entry points and food sources

to make your home less attractive to rats and mice.

Recurring visits

for protection you can count on.

100% guaranteed mice and rat extermination,

or we return to re-treat for free!
Stinging Insect Control in Crystal Lake
With A-Action, you can rest easy knowing that your family's well-being is our top priority. Don't let stinging insects disrupt your end-of-summer parties or outdoor activities any longer. With our efficient and effective solutions, you can enjoy the outdoors without the worry of wasps, bees, hornets, or yellow jackets buzzing around. Here's what we offer:
Free quotes: Contact us today for a free estimate and let us assess your specific stinging insect control needs.
Prevention: Our knowledgeable technicians will inspect every possible nesting spot, such as siding openings, exterior furniture, and light fixtures, to identify and eliminate potential nesting sites.
Power spray treatment: Our power spray treatment provides long-lasting protection against stinging insects. Trust us to keep your family safe from their wrath.
Friendly, local service: We've been servicing Illinois since 1988, so we value our community and treat our customers like neighbors.
Mosquito Control in Crystal Lake
Are you tired of dealing with pesky mosquitoes, fleas, and ticks in Crystal Lake, IL? Look no further than A-Action Pest Control for all your outdoor pest control needs. With 35 years of experience, we provide personalized treatments that deliver unmatched results. Here's what you'll get when you work with us:
Free Quotes: We make estimates easy. Just give us a call, and one of our representatives will work with you to give you a free service quote.
EPA-Approved Liquid Sprays: Our family-friendly and EPA-approved treatments will effectively eliminate mosquitoes and ticks without harming you or your loved ones.
Larvicides in Targeted Areas: We'll strategically apply larvicides in areas where mosquitoes breed, ensuring long-term control.
Flea & Tick Control: We also protect you & your pets from harmful fleas and ticks!