Save $25 on Pest Control in Wauconda
What kind of problem are you having? Select all that apply.
Pest Control in Wauconda
An infestation is the last thing you need with your busy schedule. Don't wait for relief or go through the trial-and-error of DIY treatments. Trust the pest exterminators at A-Action for pest control in Wauconda to deliver high-quality solutions and immediate relief. Whether you're dealing with bugs or rodents, no matter the critter, we pride ourselves on providing care that also can go beyond one-time services to make sure critters stay away from your home once and for all.
When you partner with us for service in Wauconda, you can expect protection from the following: 
Ants
Clover mites
Earwigs
Millipedes
Spiders
Silverfish
Mosquitos
Termites
Centipedes
Crickets
Beetles
Pill/sowbugs
Cockroaches
Rodents
Stinging insects
Plus much more!
Image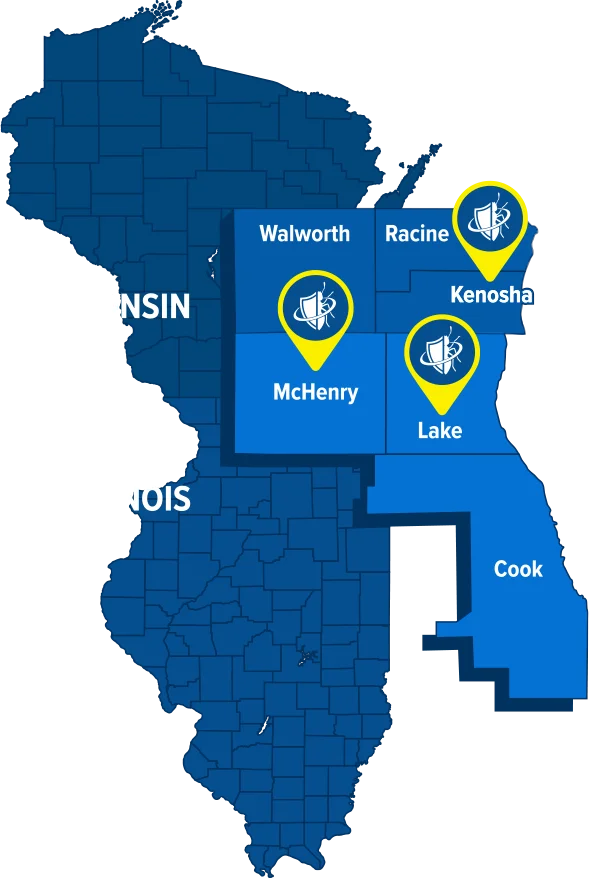 Expect Thorough Service & Quality Care
Our expert exterminators in Wauconda will deliver only the best care with the latest certifications in QualityPro technology. Looking for a different location? View all of our service areas around Lake Zurich. 
When you work with A-Action Pest Control, you can expect our pest exterminators in Wauconda to provide:
A thorough inspection to identify the extent of the infestation.
Open communication with you as we work to find a solution that best fits your home and your family's needs.
Effective treatments to remove infestations from the property.
Options for routine treatments around your home's exterior to maintain a pest-free protective barrier. 
And more!
Rodent Exterminator in Wauconda
Have you invested time and money into DIY methods, but can't seem to keep rodents away? Rats and mice can be tricky to catch, and often turn into a big problem- fast. If you've seen a rodent or you're already suffering from an infestation, call A-Action! Our team of mice exterminators has years of experience, and the drive to get you the results you deserve. If you're searching for the best rodent control in Wauconda, look no further!
When you partner with our rodent exterminators, we will: 
Conduct a thorough home inspection

.

Put up humane bait stations

to get more details on your infestation. 

Secure any entry points

where rodents may have gotten in.

Treat any areas of infestation.

And more!
A Pest Control Team You Can Trust
When it comes to serving our community, it's important to us that our services are straightforward, affordable, and successful. Our rodent exterminators want you to have the best experience possible, so they do everything in their power to make that happen. At the end of the day, we want you to feel a sense of tranquility in your home again, and have peace of mind that your family is safe. Go where your well-being is a priority, and partner with us for rodent control in Wauconda!
Bee, Wasp, and Yellowjacket Exterminator in Wauconda
At A-Action Pest Control, we understand the importance of keeping your family and pets safe. The pain of a hornet sting or the complications of bee allergies are not something you want to deal with. That's why we offer our highly effective Power Spray Treatment, designed to eliminate stinging insects and protect your loved ones. Here's what you can expect from our service:
Convenient and flexible scheduling, even same-day appointments in some cases.
Thorough inspection of all possible nesting areas, including swing sets, deck rails, and light fixtures.
Safe and eco-friendly removal of any existing nests.
Prevention of future nests in the same location.
Removal of bees, wasps, yellowjackets, hornets, and more!