Pest Control in Lindenhurst Starting at $44/Month!
What kind of problem are you having? Select all that apply.
Pest Control in Lindenhurst
Dealing with a pest problem on your own usually means buying endless traps and baits and trying a variety of natural remedies, only to end up with the same pest infestation you started with—or maybe even worse! If you're tired of wasting time with short-term pest solutions, it's time to give A-Action Pest Control a call for the best pest control in Lindenhurst. Our team of friendly, certified exterminators will:
Inspect and identify any existing or potential pest problems in your home.
Create a customized treatment plan to combat your pest infestation as quickly and effectively as possible.
Return to your home to retreat once a quarter to ensure pests stay out for the long-term.
Keep you in the loop throughout the process! We'll happily answer your questions and provide advice on how to make the most of our pest treatments.
With our exterminators in Lindenhurst on the case, there's no need to put up with pests any longer! If you looking for effective pest control, consider getting recurring pest treatments from A-Action. Make sure to check out our Antioch pest control and view our other locations. 
Image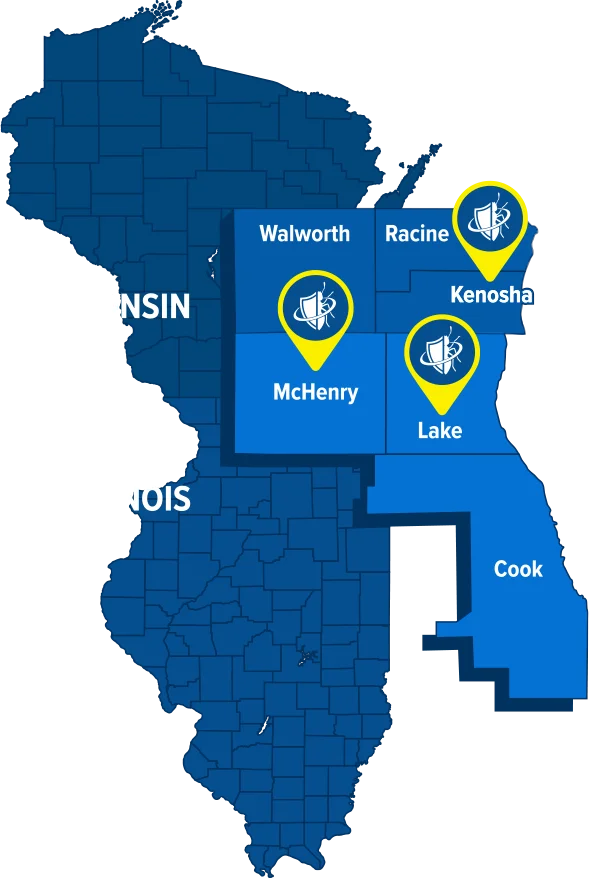 Family-Friendly Pest Treatments
Your peace of mind is our top priority, which is why we solve your pest problems using the safest treatment options possible. We only use products that meet our strict standards and are pet and kid-friendly. But that doesn't mean they aren't effective! No matter your pest problem, our exterminators in Lindenhurst always strive to find a solution that is both safe and effective, all while fitting your budget. Based on the needs of your home and family, we offer several options for pest treatment plans. We offer pest control services including:
Ant Control
Spider Control
Centipede Control
Earwig Control
Silverfish Control
Cockroach Control
And many more!
6x Angie's List Super Service Award Winner
From the time you give us a call until we leave your home, you can always expect to get the high-quality service that's earned us Angie's List Super Service Award 6 years in a row! What's more, our pest control services in Lindenhurst come with a satisfaction guarantee. What does this mean? If pests persist, we'll happily return to your home to re-treat at no extra cost to you! At A-Action, we strive to provide the best and latest in the industry, so we can deliver pest solutions that last. Our professional exterminators go through extensive training to keep them up to date on best practices and are required to retain a current state certification, so you can feel like you're in good hands. On top of being great at their jobs, our pest exterminators are always friendly, courteous, and prompt.
Rodent Exterminator in Lindenhurst
We all know an indoor rodent infestation is annoying, but did you also know it can dangerous for your loved ones and your home? Not only are mice and rats capable of transmitting dangerous diseases and bacteria, but they can also chew through wiring and insulation in your home, causing even more problems. Here at A-Action, we provide effective rodent control so you can relax in your home, worry-free.
Protect Your Home-- Save $50 on Rodent Services
Rodents can put you, your family, and your home at risk. Now, when you sign up with A-Action Pest Control for our rodent control in Lindenhurst, you can save $50 on your treatment! Trust our expert exterminators to get rid of your vermin fast, so you can enjoy a rodent-free home. Please note that this offer cannot be combined with another offer.
Protect Your Home from Dangerous Rodents
Our smart and friendly exterminators are thoroughly trained to safely remove mice, rats, and other rodents from your home. When you partner with us for rodent control, you can expect:
A thorough inspection performed by an exterminator to locate entry points where the rodent may be gaining access to your home.
The addition of bait stations around the home to safely eliminate the critters.
A secondary visit from your exterminator to inspect bait stations and identify problem areas.
The total elimination of all rodents, entry food sources, and nests.
A 100% satisfaction guarantee
Stinging Insect Exterminator in Lindenhurst
Just the sight of bees, wasps, hornets, and other stinging insects is enough to make most people uncomfortable, but it's their sting that really bites! That's why we offer professional power spray treatment in Lindenhurst to rid your home of all its unwelcome stinging invaders. We offer services such as:
Bee Control
Wasp Control
Hornet Control
Yellowjacket Control
Carpenter Bee Control
Paper Wasp Control
And more!
Take the Sting Out of Your Yard
Our professional and knowledgeable exterminators offer a one-time all-encompassing Power Spray Treatment as early as the spring to keep your family free from stings all year long. From the lasting pain of hornet's sting to potential allergic reactions from bees, preventing these pests from harming your family is priority number one! You can expect our power treatment in Lindenhurst to include:
Convenient scheduling options for your busy life!
A thorough inspection of your home and property performed by one of our exterminators.
Elimination of any pre-existing nests of stinging insects with our safe and eco-friendly products.
Prevention of future nests in the same location for continued protection.
Choosing A-Action to take care of your stinging insects makes keeping your home free from stinging insects a breeze! Give A-Action Pest Control a call today to find out how you can save $30 on your power spray treatment today!
Mosquito Exterminator in Lindenhurst
Are you pestered by mosquitos? Don't be subjected to any more bites, let our highly-trained exterminators help! We offer high-quality flea, tick, and mosquito control treatments along with professional customer service. Our mosquito treatment is EPA-approved and safe for the family to be around— so we can get rid of those pests without causing harm to you or your loved ones!
The A-Action Difference
Our team of exterminators work tirelessly to rid your yard of all pests. If you are ready to reclaim your backyard look no further than A-Action. Our mosquito control in Lindenhurst works by:
Surveying and determining an appropriate course of pest treatment that works for your home.
Applying high-quality mosquito treatments that are safe for you and your family to be around.
Returning monthly to apply more treatments to prevent mosquitoes from returning.
Our backyard mosquito control starts with a quote from the experts! Call us today and see how we can help you take back your yard.
Flea Exterminator in Lindenhurst
Fleas bites may be itchy for humans and pets, and they can pose a health risk to animals if ingested. Your monthly preventative for animals may only be preventing the reproduction cycle of a flea. Subsequently, you and your pets may be left to endure the nuisance of fleas. Protect your family and furry loved ones from the unnecessary discomfort fleas can cause with our expert flea control in Lindenhurst. Your flea-free backyard starts with a quote from our expert exterminators. Why wait?
Tick Exterminator in Lindenhurst
Ticks are known for carrying debilitating diseases that can affect humans and animals, such as Lyme disease and Rocky Mountain Spotted Fever. Unfortunately, these pests are nearly silent and can invade almost any space they want. Don't rely on old wives' tales to protect yourself and your pets. Call the experts today to get a free quote on our tick control in Lindenhurst.
Our Guide to Ticks
We have developed a comprehensive solution for tick control that has served our customers well in the past. Our highly-trained exterminators come to your home and apply a tick treatment, effectively creating a barrier around your home and ultimately reducing the population of ticks in your yard. Take advantage of our professional advice on keeping your yard tick-free!
Keep your trees and shrubs pruned to reduce the amount of shade cover.
Ticks love to hitch rides on deer, so consider putting a fence up if you have an issue with deer visiting your lawn.
Rake up leaves consistently.
Locally Trusted Exterminators
Here at A-Action Pest Control, we strive to provide highly-quality care and a 100% satisfaction guarantee. We are much more than just a group of highly-trained exterminators - we are your neighbors, too! We pride ourselves on trust, integrity, and providing you with the peace of mind that your home is pest-free. Our team is professional and knowledgeable, and we promise to deliver top-notch pest control service.