Pest Control in Lake Zurich Starting at $44/Month!
What kind of problem are you having? Select all that apply.
Pest Control in Lake Zurich
Do-it-yourself pest control methods pose risks to family health and are often ineffective. Looking for professional pest control near you? Partnering with A-Action for pest control in Lake Zurich is the way to go. With our state of the art family-friendly methods, you'll send your household pests packing in no time.
No matter the pest you're facing, our exterminators in Lake Zurich have the solution for you. Our solutions kill bugs quickly and only use practices that are harmless to humans. Our strict standards on pest control treatments in Lake Zurich ensure that all services in your home meet or exceed quality standards.
Image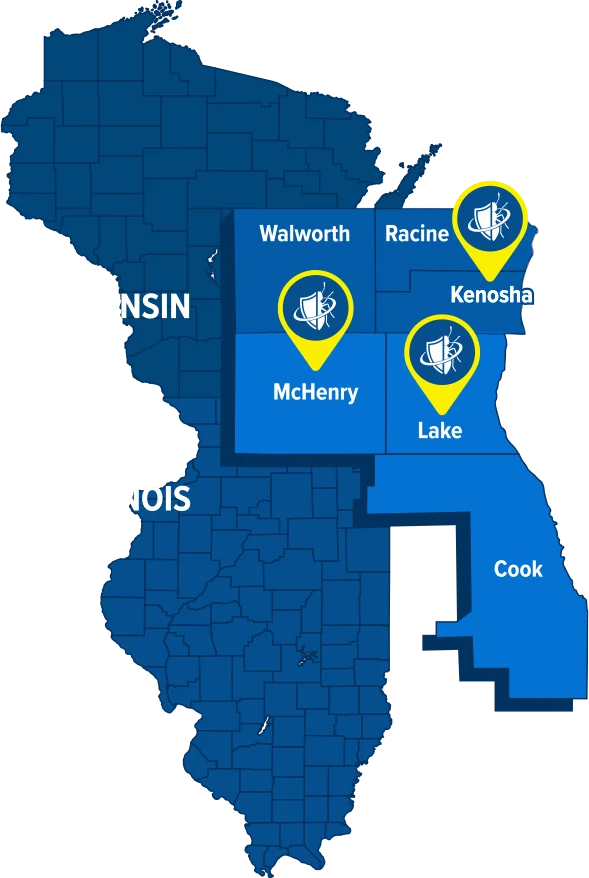 Personalized Pest Treatments
A-Action treats your family as our own. And that's because we are family! A-Action Pest Control is locally-owned and operated pest control company in the Lake Zurich area. Our pest control in Lake Zurich is all about helping our neighbors and treating them with care. So next time pests invade, rely on A-Action for personalized pest control and trustworthy exterminators in Lake Zurich.
Trust Our Certified Exterminators in Lake Zurich
All of our exterminators in Lake Zurich are trained internally and required to have and retain state certifications. This means you can rely on A-Action for up-to-date and efficient pest control. Get this- as a new customer, you can save $25 off your first service. Trust our professional, innovative, and constantly evolving exterminators for your pest control in Lake Zurich needs.
Rodent Control in Lake Zurich
Worried about disease being brought into your home? We've got you covered with our rodent control in Lake Zurich. Rodents can pose a threat to the health of your family and the structure of your home. Mice and rats can gnaw on the wires in between your walls and ultimately create long-term damage.
Protect Your Home-- Save $50 on Rodent Services
Rodents can put you, your family, and your home at risk. Now, when you sign up with A-Action Pest Control for our rodent control in Lake Zurich, you can save $50 on your rodent control service! Please note that this offer cannot be combined with another offer.
Stay Protected from Rodents
Here's what our Lake Zurich rodent control experts will do for you:
Perform a thorough inspection of your home to determine the severity and areas of the infestation.
Set up bait stations in the affected areas of your home.
Provide a follow-up inspection.
Eliminate food sources, treat infested areas, and seal the entry points to prevent further infestation.
How does a rodent-free home sound? Our highly trained exterminators in Lake Zurich will deliver safe and efficient techniques that will leave your home protected. Don't try to battle the rodents on your own, call A-Action Pest Control for effective rodent control in Lake Zurich!
Stinging Insect Control in Lake Zurich
Stinging insects can be a real pain, literally. Not only do they annoyingly buzz around your face, insects like wasps, hornets, yellow jackets, and bees can also cause nasty stings that hurt for days. If you're ready to transform your backyard into a sting-free zone, A-Action is here to help! Our stinging insect control in Lake Zurich uses the best, most advanced products and techniques to consistently give fast relief.
Save $30 on Our Power Spray Treatment
Here at A-Action, our job is to make your life easier. Not only does that mean keeping your yard safe by eliminating wasps, hornets, yellow jackets, and bees, but it also means keeping your wallet happy. We're proud to offer affordable prices on necessary services like stinging insect control in Lake Zurich. To make it even better, we're currently offering $30 off power treatment when you sign up today!
See Results After Just One Visit
We pride ourselves on delivering quick results. In fact, our Lake Zurich stinging insect control utilizes our Power Spray Treatment that is proven to eliminate stinging insects in just one visit. If you need relief as soon as possible, look no further than A-Action Pest Control! Our Power Treatment in Lake Zurich also includes:
Visits that work with your busy life.
Detailed inspections that spot nests, even in hard to reach places, like underneath patio furniture, on swing sets, on soffits, and in holes in siding.
Eco-friendly treatments that eliminate all current stinging insects.
Preventative measures to keep nests from recurring in the same location.
Guaranteed results.
While we kick wasps, hornets, and yellow jackets to the curb, at A-Action we proudly protect the honey bees. They help pollinate the flowers in your garden as well as fields of crops, making it possible to get fruits and vegetables. Rather than eliminate them, we call in a local beekeeper to give them a new home, far away from yours.
The Safe Way To Eliminate Stinging Insects
Ridding your yard of wasps, bees, hornets, and yellow jackets can be a risky endeavor, resulting in either a success or an angry hoard of stinging insects. That's why it's always best to leave the stinging insect control in Lake Zurich to the professionals. Our team is state-licensed and trained to eliminate stinging insects the first time. Not to mention, they're also equipped with protective gear that helps to prevent unnecessary injuries. We also make sure you and your family are inside before commencing treatment, ensuring you stay safe. When we leave, you're left with a stinging insect-free yard! If you aren't 100% satisfied, we will return to re-treat as needed, at no cost to you.
Termite Inspections in Lake Zurich
Termites cause more damage to homes annually than fires, earthquakes, and tornadoes combined. That's a lot of money! That's also why most lenders and all VA and FHA loans require an inspection before closing a real estate deal. When it comes to the safety of your home, you need the best. You need A-Action Pest Control. We offer comprehensive termite inspections in Lake Zurich that are usually done in one hour or less. We'll give you peace of mind and all the necessary paperwork.
When you trust us to do a termite inspection, we will:
Carefully search for signs

of current and past infestations, like mud tubes and damaged wood.

Check the basement or crawl space

, looking at the sill plate, band board, and floor joists for signs of wood-destroying insects.

Inspect each floor

, including the attic, for boreholes, exit holes, and nests on baseboards, window frames, door jambs, and walls.

Provide a certification letter, detailed wood-destroying insect report, and recommendations for treatment

if necessary.
Mosquito Control in Lake Zurich
We all know mosquitoes are annoying, but they can also be dangerous. Not only do these summertime insects cause itchy welts, they can also transmit a variety of diseases such as malaria, West Nile virus, and dengue. To protect your family, you need something more powerful than store-bought bug sprays. You need our mosquito control in Lake Zurich! We don't just repel mosquitoes, we eliminate them to give you noticeable relief.
Our mosquito spraying includes:
A careful inspection to assess

your property's unique needs

.

Treatment with

EPA-approved, family-friendly products

.

Prevention tips to

stop future mosquito problems

.

Recurring treatments to

protect your yard all season long

.

Re-treatments if you don't see the results you want.
Areas We Service Around Lake Zurich
Not in Lake Zurich? We service the following areas nearby: